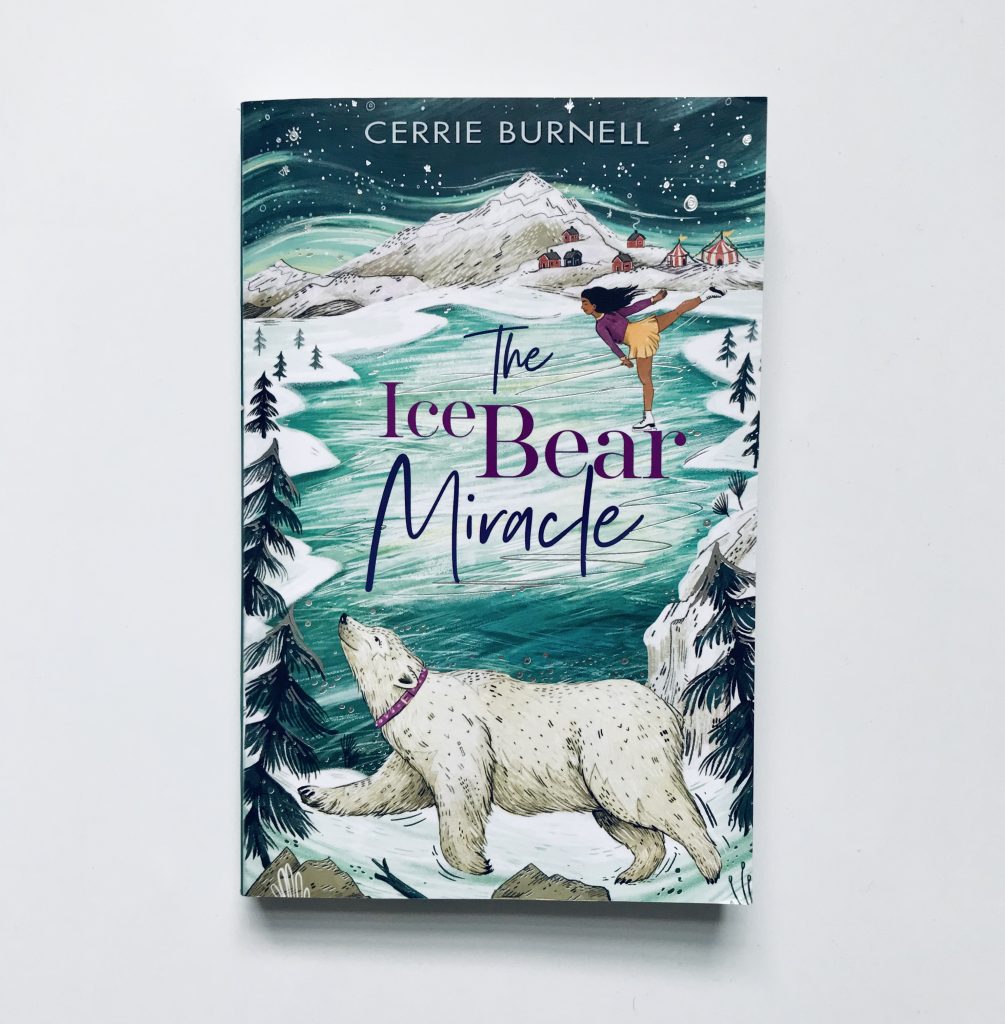 Cerrie Burnell's first middle grade book, The Girl With the Shark's Teeth, was without doubt my favourite read of 2019 and so I was quite excited when my copy of The Ice Bear Miracle, which was released last month, arrived.
Life with bears is dangerous, as Marv Jackson knows – the large crescent moon shaped scar on his face acts as a constant reminder of the night he survived a bear attack. There he was, all but 5-years-old dressed head to toe in a ice hockey kit, drawn to the frozen lake by his love of skating, or so people say. But when Marv thinks back to the moments before the bear attack, he can hear a baby's cry cutting through the night air. Marv knows deep in his heart that the legendary tale of that night isn't quite the full story. The truth can be found at a travelling carnival, where a mysterious young girl and her magnificent polar bear skate beneath the northern stars.
Cerrie has truly excelled with this atmospheric, wintery read. An extremely accomplished writer, her plots and inclusive characters are original, exciting and intriguing and are brought to life through her seemingly effortless, lyrical writing style. The Ice Bear Miracle is storytelling at its best: mystery and adventure laced with mystical local legend and a sprinkle of wonder. I loved the character interaction, the link to winter sports, the camaraderie of close-knit communities, and the beautiful bond between Tuesday and her ice-skating polar bear companion, Promise. With an evocative ending and a stunning cover by Sandra Dieckmann (my photo really doesn't do it justice), the book has the timeless feel of a classic. I found it the perfect one-sitting read.
Both of Cerrie's middle grade books (age 8/9+) are slightly shorter than the norm, which I think is a good thing as some children, regardless of whether they enjoy reading or not, can be daunted by books of 300+ pages. In addition, her books also have decorated pages and illustrations between chapters, which provide readers with a continuation of the visual stimulation they have enjoyed with picture books, early chapter books and junior fiction. I'm a firm believer that illustrations provide interest and enjoyment to readers regardless of age, and thus I'm pleased to see a growing number of illustrated middle grade books making it to publication. Long may it continue…
Finally, if you haven't yet read The Girl With The Shark's Teeth, check out our review: http://www.merrybookworm.co.uk/fiction/the-girl-with-the-sharks-teeth-by-cerrie-burnell/
The Ice Bear Miracle
Author: Cerrie Burnell
Illustrator: Sandra Dieckmann
Publisher: Oxford University Press
ISBN: 9780192767561
Paperback: 241 pages