My husband and I were very keen to introduce different faiths and cultures early on in our children's lives, to give them a better understanding of the religious beliefs and cultural traditions of those around them. Bearing in mind our children are 4 and 6, we agreed that any 'teaching' needed to be done with a light touch, and be informative and interesting. While looking around for appropriate reading material, I came across a series of books called 'Your Faith Collection', written by Harriet Brundle and published by The Secret Book Company. There are 6 books in the series, covering: Christianity; Islam; Buddhism; Judaism; Hinduism; and Sikhism.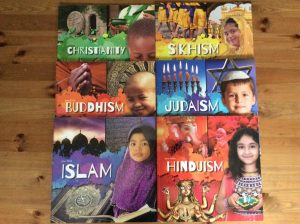 The Books are bright, colourful and the size of picture books. Each book starts with a simple definition of religion in general and then goes on to explain about the particular religion being covered. Further chapters cover subjects such as core tenets, places of worship, special ceremonies and celebrations, religious books, and a few short facts.
I like these books because they are factual, engaging, easy to understand and short enough to read through in 5 minutes or so, depending on the amount of questions I get asked. I usually read them to the children over dinner (it gives them something to focus on, rather than bickering with each other!) and although the books are recommended for children of 5 and over, our son is 4 and asks quite a few pertinent questions, so it's clear that he is able to understand what is being read to him. The books have prompted lots of interest from the kids, both specific to the religion we have been reading about, and more generally, such as wanting to know if it's ok to celebrate our friends' festivals, if they are of a different religion to us. That's exactly what we wanted to achieve – curious and engaged family discussions about faith and its place in our lives – and so these books have been a definite hit.
The book series is currently sold on-line by The Book People, with the complete set currently retailing around £7/8, fab value for money.
---
Additional Book Information:
Your Faith Collection
Author: Harriet Brundle
Publisher: The Secret Book Company
ISBN: 9781786372116
Format: Collection (various pages)
Dimensions: 25 cm x 25 cm