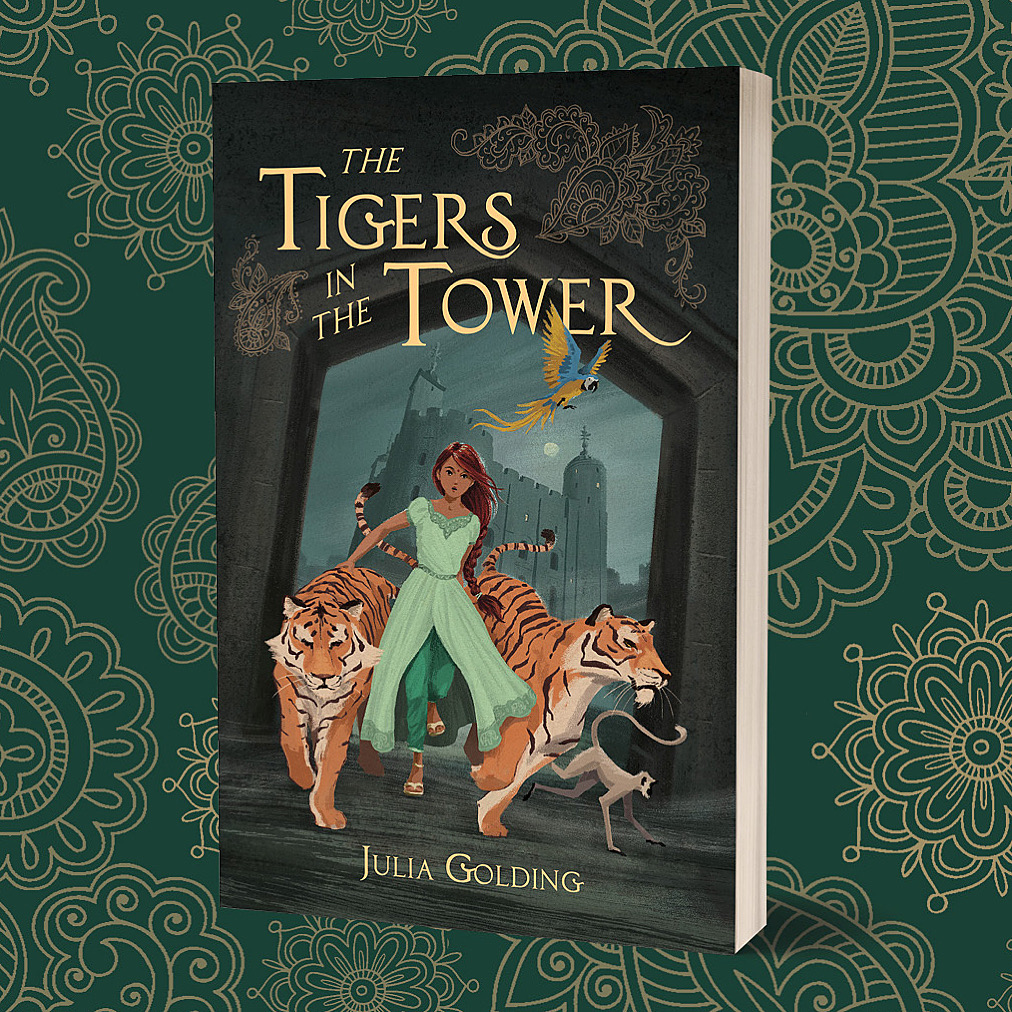 Today's my stop on the blog tour for The Tigers in the Tower, a brilliant, historical adventure for readers aged 8+, which is written by Julia Golding. Before I talk about this superb story, though, can I just take a minute to appreciate the amazing cover art created by Keith Robinson? It really is stunning – in fact I've just ordered another copy of the book for the cover alone as my review copy was an early proof!
Anyway, on with the story. In the early 1800s, Sahira – the daughter of an English father and Indian mother – is orphaned while sailing to England to deliver 2 Indian tigers to the Royal Menagerie. Once the tigers arrive at their new home in the Tower of London, Sahira is immediately despatched to a children's orphanage; however, her help is requested just a few days later by His Majesty's Keeper of the Lions, as the tigers struggle to adapt to their new environment. While this allows her to escape from the oppressive orphanage each afternoon, she becomes extremely concerned when she hears that the future of the menagerie is in jeopardy. She thus embarks on a daring, risky adventure – supported by her new-found friends – to keep the tigers alive.
I've really enjoyed this cracking middle grade read. Julia Golding has such a descriptive, evocative writing style, which places you right at the heart of the story. I love how she uses contrasting colour palettes and spices/seasoning to describe the stark differences between London and India, as well as including a plethora of historical references and cameo appearances (Charles Darwin, Sir Robert Peel and the Duke of Wellington all take a bow). Julia has created a fascinating protagonist in Sahira: she's courageous, intelligent, and has a deep respect for, and understanding of, animals and their way of life. Indeed, feeling as out of place in England as the animals in the Royal Menagerie, she finds that she makes sense of her new world by equating human and societal behaviours with that of the animal kingdom. Throughout her life, Sahira has suffered some appallng treatment due to her dual heritage, which has clearly shaped her inclusive and compassionate nature. She is not without flaws, though, and at one point, bowls ahead with a plan to provide what she thinks would be a better life for a friend, without thinking to ask or consider their views and preferences.
Aside from the imaginative storyline, there are lots of thought-provoking themes deftly woven into the story (it would make a great book to share for this reason alone): grief, bullying, racial prejudice, contradictions of animal conservation, complexities of friendship, and the impact of Sahira's dual heritage on her sense of belonging. Indeed, it's this exploration of the human experience that gives the book a timeless, classic feel, as the themes are as relevant today as they were then. It's one of my favourite middle grade books this year: gripping, original and atmospheric.
A big thank you to the lovely Fern at Lion Hudson for inviting me to join the tour. I've thoroughly enjoyed reading the reviews of my fellow tour book bloggers and have included their details directly below so that you can link up with them if you'd like to.
The Tigers in the Tower
Author: Julia Golding
Cover Art: Keith Robinson
Publisher: Lion Hudson Limited
ISBN: 9781782643173
Paperback: 304 pages