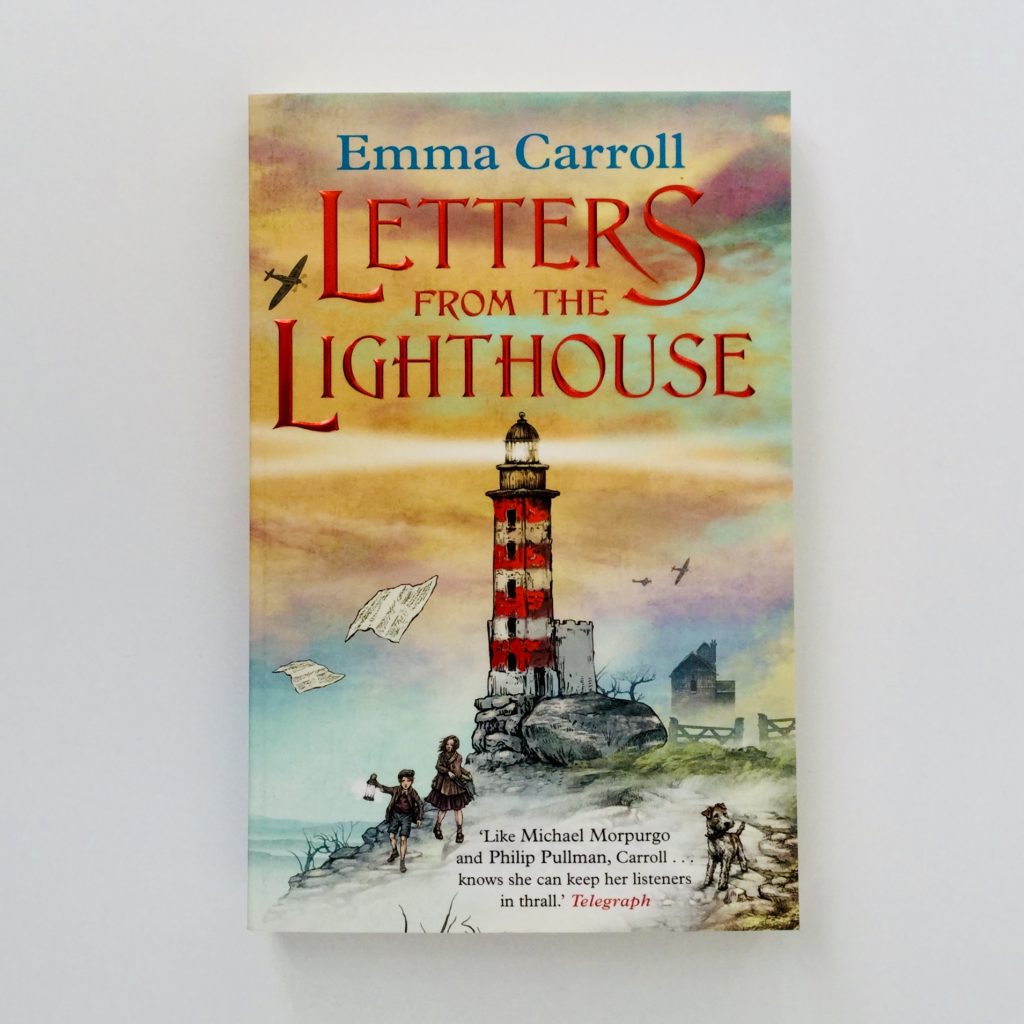 With 7 historical fiction books under her belt, and another about to be published imminently, Emma Carroll has earned her title of Queen of Historical Fiction and has been on my radar for some time; indeed, for the last 6 months I have had 3 of her books in my To Be Read (TBR) pile, but somehow none of them ever reached the top. Last weekend I decided to change that, and selected Letters From the Lighthouse as my next read. I took it to bed with me, thinking that I'd read a couple of chapters before going to sleep – 3 hours later, I turned out my light! I was so completely enthralled by it, that I now can't wait to read her other books.
'We weren't supposed to be going to the pictures that night. We weren't even meant to be outside, not in a blackout, and definitely not when German bombs had been falling on London all month like pennies from a jar.'
Letters From the Lighthouse is set in 1941 in the midst of World War II. Olive Bradshaw and her younger brother Cliff are evacuated out of London after their sister, Sukie, went missing during an air raid. Sent away to the Devon coast, they are eventually billetted with Mr Ephraim, the local lighthouse keeper. Olive is desperate to be accepted within her new community and soon takes on the job of delivering letters to villagers, all the while hoping that she might discover what happened to her sister. After coming across a coded message, which suggests a link between Sukie and Devon, Olive begins to suspect that her sister might be involved in dangerous wartime activities and thus starts to look for answers to her questions.
Emma Carroll's atmospheric storytelling sucks you right in from the outset and the mystery and intrigue keep you glued to the page. While the setting is historical, there are themes within it that resonate with the present day, such as the plight of refugees, prejudice, tolerance and bereavement. It also brings to the fore issues surrounding our country's immigration policy during the War. Aside from the adventure and mystery, there is also a real human touch to this story. Emma focusses on the differing and devastating impact that the War (and its lead-up) has on the characters in the book, both young and old, and captures the, at times, discordant mood of the community. I think that this is an important aspect to draw out in texts for children. We often talk about the great community spirit during the War and how everyone pulled together. While that is, of course, true, very little is spoken of the underlying fractures in many communities, due to fear, prejudice and grief and I think this story portrays this accurately and with empathy.
I truly loved this book and thus I am not surprised that it was named the Sunday Times Best Book of 2017 and also won the Books Are My Bag Award for the Best Middle Grade Book 2017. While it would make a fascinating and informative read for Key Stage 2 children and above, and I could also see this story working very well as a supporting text for teachers with classes studying World War II. I am now off to pre-order Emma's new release, Secrets of a Sun King, a story of Egyptian pharaohs and curses, which is due out on 2 August, and then I plan to settle down with 2 of her earlier books: Sky Chasers and Frost Hollow Hall. Addicted? Who, me? Well, maybe… just a little… a very little…
---
Letters From the Light House
Author: Emma Carroll
Publisher: Faber & Faber
ISBN: 9780571327584
Paperback: 288 pages