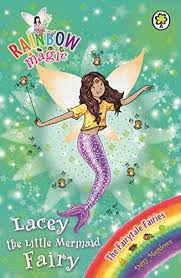 The Rainbow Magic books by Daisy Meadows (a collective pseudonym for a number of writers) are the literary equivalent of marmite for parents – you either love them or you hate them, but there's no doubt that this best-selling series has sold millions of copies worldwide and its winning formula of friendship and magic appeals to many young children who are starting out on their reading journey.  I was asked the other day for some recommendations for what to read after Rainbow Magic – a similar format but, bearing in mind that Rainbow Magic is for children aged 5 upwards, for a slightly older audience.  So here are a few of our favourites.  All of them are suitable for KS1/early KS2 (and indeed older depending on what your child likes to read); I've included a photo of a text page from each book, along with an indication of story and chapter length, so that you can get a better feel.
---
The Magic Animal Friends series is also by Daisy Meadows and published by Orchard Books; it is effectively the next step up from Rainbow Magic (albeit the series also comes in an Early Reader format).  There are over 30 books in the series, all of which involve 2 friends, Lilly and Jess, and their adventures in the Friendship Forest.  While each book has a different animal at the centre of the story, the villain – Grizelda the Witch – is the same in each one and so the series can become a tad formulaic for parents if they are reading the stories out loud.  The stories are around 100 pages long and split into 8 chapters, and include plenty of black & white illustrations.  There is a map of the Friendship Forest at the front and puzzle and fact pages at the back, as well as a preview of the next book in the series.  For those children who like on-line activities, they can join the Magic Animal Friends Club at www.magicanimalfriends.com to access to age-appropriate games and activities.
---
The Owls of Blossom Wood is a 6-book series written by Catherine Coe, illustrated by Renee Kurilla and published by Scholastic.  The stories centre around 3 young girls called Katie, Eva and Alex, who hide inside a hollow tree trunk at the bottom of the garden and find themselves transported to a magic wood where they are transformed into owls.  During their adventures they are called upon to solve various problems, from working out what's killing the precious Moon Chestnut Tree, to finding a missing dear.  The books also have a map at the front so that readers can visualise Blossom Wood, and a Did You Know? page at the back, full of animal facts.  The stories are around 80 pages each (albeit with more text on a page than Animal Magic Friends); they are broken down into 6 chapters with lovely black & white illustrations on most of the double-page spreads, and a bit more variation in the story line than the Animal Magic series – oh, and no villains!  Catherine has also produced another set of Blossom Wood books, based on unicorns, which we haven't yet read but the synopsis is very similar to the owl books, so if your child prefers unicorns, then they might be the better option.  Like Magic Animal Friends, the owl and unicorn series also have a joint website, blossomwoodbooks.com, which provides info on the books as well as games and activities.  You can also download the first chapter of each book for free.
---
The Unicorn School series by Linda Chapman and published by Puffin has 6 books in the series, each having circa 110 pages split into 8 chapters.  These books are not as heavily illustrated as Magic Animals and Blossom Wood, but they do have a map at the front.  My daughter and I like this series as it deviates a little from the Rainbow Magic norm: it's basically about a group of 4 unicorns who have been sent to a special school to learn how to cast charms and fly – think Hogwarts for unicorns.  It's worth mentioning that Linda Chapman is a tour de force when it comes to books about magic and friendship (in fact she has written some of the Daisy Meadows books), with many series under her belt such as: My Secret Unicorn; Not Quite a Mermaid; Stardust; Bright Lights and Skating School, so if you can't find something that appeals in this blog, it might be worth checking her out.  You can find her at lindachapmanauthor.co.uk.
---
Fairy Unicorns (sorry, we seem to be doing unicorns to death!) by Zanna Davidson and illustrated by Nuno Alexandre Viera is a series of 6 books commissioned by Usborne for its Young Reading Series 3 (which it defines as for newly fluent readers ready for longer stories).  These have just over 100 pages and are split into 7 chapters.  The series is based on a girl called Zoe, who discovers a magical world full of fairy unicorns – Unicorn Island – while staying with her Great Aunt (her cousin, Holly, who is also staying with them, features in her own Usborne book series called Fairy Ponies).  The stories centre around an evil fairy pony called Shadow who is wreaking havoc on Unicorn Island, trying to destroy it by damaging the environment so that he can ultimately dethrone the Unicorn King.  The illustrations in these books are really lovely; while they are predominantly black and white, they have splashes of colour that tone with the book's cover, which really helps brings them to life.
---
Finally, The Secret Rescuers series by Paula Harrison is illustrated by Sophy Williams and published by Nosy Crow.  The books, of which there are currently 6, have circa 100 pages and are broken down into 10 chapters; the text is smaller than other books featured in the blog.  While the black and white illustrations are detailed and plentiful, there are a fair few double-page spreads with text only, so you'll definitely find more text in these books than the others.  The series is set in the fictional Kingdom of Arramia and features a group of girls who rescue various magical animals, such as storm dragons, firebirds, sea ponies and star wolves, which are under threat from the evil Lord Fitzroy, Lord Hector and Lady Cavendish.  The stories are a little more sophisticated (in relative terms), and are enjoyable and varied.  Out of all the books we have read of this type (and we have read a LOT!), these are my favourite, albeit my daughter (who's nearly 7) told me that she couldn't choose a favourite as she loves all the series equally.
So there you have it – magic and friendship in abundance.  Enjoy (and stay away from marmite…)!