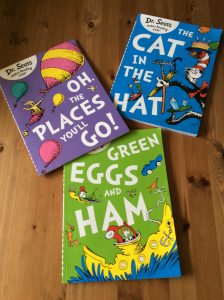 'You have brains in your head.
You have feet in your shoes.
You can steer yourself any
direction you choose .'
Dr Seuss was born on 2 March 1904, so I thought today would be a good day to celebrate his work.
Very early on when our daughter was learning to read (ie, during Reception), we found that she wanted to read books that were more interesting than school readers. After looking around we couldn't easily find ones that she was able to read and enjoy at such an early stage of her reading development, without getting a bit disheartened because she was regularly having to ask for help. We then came across Dr Seuss. I hadn't read any of his books when I was younger as they weren't stocked by our local library; however, after reading an article in a magazine about Theodor Seuss Geisel's – aka Dr Seuss – inspiration, I thought that his stories might be the perfect solution.
While Seuss had been writing and illustrating for a number of years, Life magazine published a report in 1954 concerning illiteracy among school children. The report said, among other things, that children were having trouble reading because their books were boring. This inspired Seuss and his publisher to write a fun story using a maximum of 250 simple words. Nine months later Seuss published The Cat in The Hat, which went on to be an instant success. A few years after, he was bet $50 that he couldn't write an entire book using just 50 words, which resulted in the creation of Green Eggs and Ham.
There are over 40 Dr Seuss books available, predominantly written in rhyme, which are categorised into 3 colour schemes: blue-backed books for adults to share with children, where the repetition and rhymes work with the pictures to help pre-readers recognise the words; green-backed books for building confidence in children just beginning to read on their own; and yellow-backed books, ideal for fluent readers and brilliant for practising reading aloud. One of the reasons why I think that Seuss' books are so successful, is that he wanted young people to think as well as read. While he made a point of not being blatantly moralistic – indeed, he once stated that 'kids can see a moral coming a mile off' – he was happy to write about 'issues', saying that 'there's an inherent moral in any story'. So, while some of his books are daft and zany, like The Cat in the Hat and I Wish I Had Duck Feet, and some are inspirational, such as the Places You Will Go! and I Can Read With My Eyes Shut, a number have thought-provoking, but subtle messages embedded within them. For instance, The Lorax addresses the environment; Horton Hears a Who! – prejudice & conformity; Yertle the Turtle – authoritarianism; and the Sneetches – discrimination.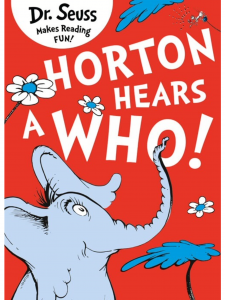 'A person's a person, no matter how small'
We started with Green Eggs and Ham and Cat in the Hat, and our daughter was instantly hooked. She loved the fact that she could just pick up the book on her own, and read out loud some very funny stories, which had brilliant illustrations to help emphasise the text. It did wonders for her confidence. It didn't matter that at first, she struggled to maintain interest to read a whole book, as either we would finish it off for her, or she would just go back to it later. We have since added to our collection over the past year and my daughter really loves them – she always goes back to them no matter what else we have on the reading shelf. She loves the whacky characters, particularly if they are getting up to mischief (I think that Cat in the Hat is her favourite), and pores over the illustrations which are brilliantly drawn. She keeps asking for more and more of them. From a parent's perspective, they are a joy to read out loud and I like the fact that they gently introduce children to a number of issues that are as relevant today as they were then.
'I know it is wet and the sun is not sunny. But we can have lots of good fun that is funny!'
The Dr Seuss books retail around £3-5 per book; however, if you become addicted to them as we have, then you might like to know that there is a fabulous collection being sold by The Book People, which includes 20 Dr Seuss books (covering all 3 levels), for around £22, a real bargain. Not only did I buy a set for our family, but I also bought one to use for party bags and prizes, which went down really well.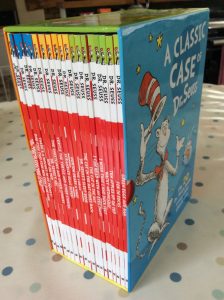 If it's not clear which colour category the various books fall into (as earlier editions on sale are not colour-coded), I've included a list below:
Blue Books (for sharing with your child)
Dr Seuss's ABC
A Fly Went By
The Bears' Picnic
The Bike Lesson
The Eye Book
The Foot Book
Go, Dog, Go!
Hop on Pop
I'll Teach My Dog 100 Words
Inside Outside Upside Down
Mr Brown Can Moo! Can You?
One Fish, Two Fish, Red Fish, Blue Fish
The Shape of Me and Other Stuff
There's a Wocket in my Pocket!
Green for Back Books (for children just beginning to read on their own)
A Fish Out of Water
And to Think I Saw It on Mulberry Street
Are You My Mother?
The Bears' Holiday
Bears on Wheels
The Best Nest
The Cat in the Hat
The Cat in the Hat Comes Back
Come Over to my House
The Digging-est Dog
Fox in Socks
Gerald McBoing Boing
Green Eggs and Ham
Happy Birthday to YOU
Hunches in Bunches
I Can Read With My Eyes Shut!
I Wish That I had Duck Feet
Marvin K Mooney Will You Please Go Now!
Oh, Say Can You Say?
Of, the Thinks You Can Think!
Ten Apples Up on Top
Wacky Wednesday
Yellow Back Books (for fluent readers to enjoy)
The 500 Hats of Bartholomew Cubbins
Daisy-Head Mayzie
Did I Ever Tell You How Lucky You Are?
Dr Seuss's Sleep Book
Horton Hatches The Egg
Horton Hears a Who!
How the Grinch Stole Christmas!
If I Ran the Circus
If I Ran the Zoo
I Had Trouble in Getting to Solla Sollew
The Lorax
McElligot's Pool
Oh, the Places You'll Go!
On Beyond Zebra
Scrambled Eggs Super!
The Sneetches and Other Stories
Thidwick the Big-Hearted Moose
Yertle the Tertle and Other Stories
---
Additional Book Information:
A Classic Case of Dr Seuss
Publisher: Harper Collins (29 Jun 17)
ISBN: 9780007967421
Format: Collection: paperback, various pages
Dimensions: 23.1cm x 16.7cm