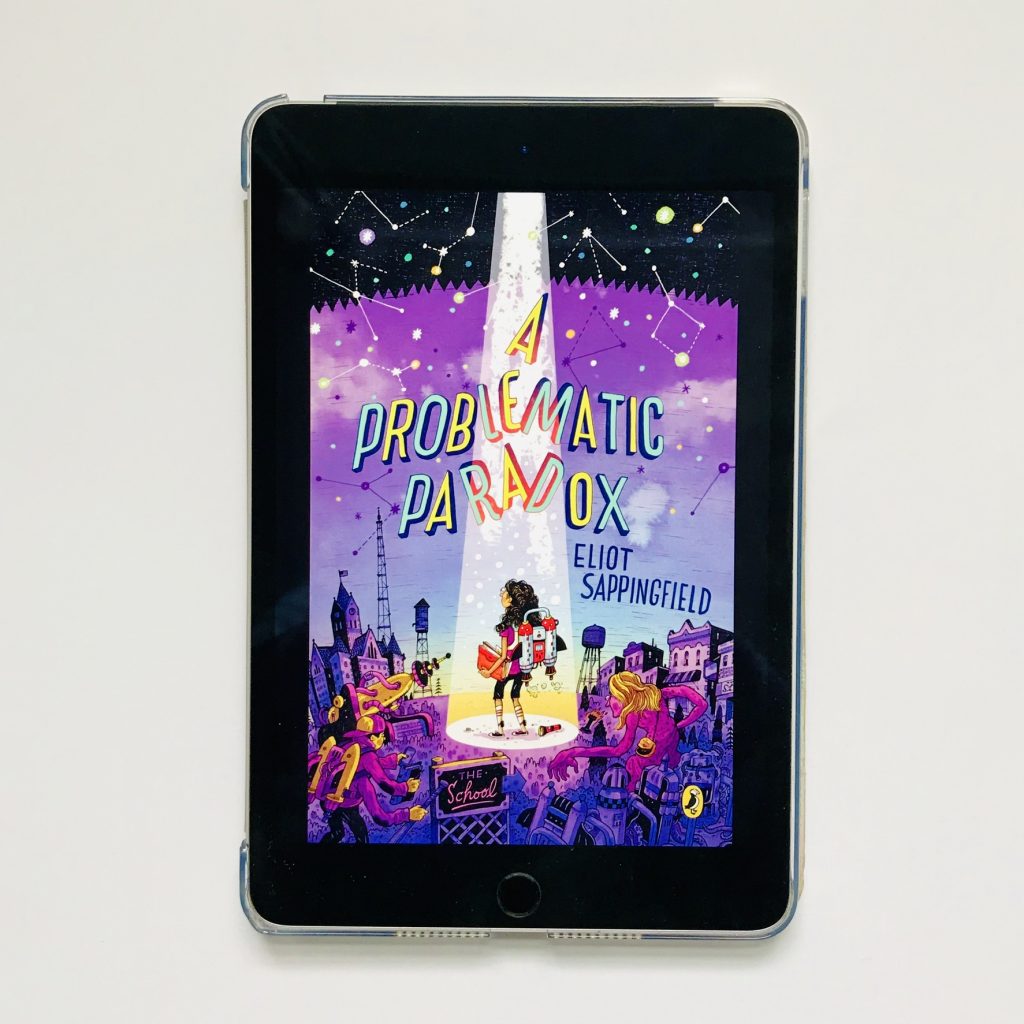 'I'm a peanut butter and sardine sandwich in a vending machine full of candy'.
I'm not usually one for sci-fi, but I have been on the lookout for stories with a STEM slant, and came across this book purely by chance.  Let me say from the outset that I'm really glad that I did.
'your understanding of quantum manipulation is like the children's end of a swimming pool: SHALLOW, TRANSPARENT, and probably filled with more WASTE than we like to imagine'
A Problematic Paradox, Eliot Sappingfield's debut novel, features a female protagonist called Nikola who is sassy, smarter-than-smart and resigned to the fact that she doesn't fit in at school.  Her life is turned up-side-down after finding out that her genius father has been kidnapped by the Old Ones, a nasty gang of extraterrestrials, who are also rather desperate to bring her into their fold.  Unbeknown to her, her father has always had a back-up plan in place for such an emergency, and so she finds herself enrolled at the Plaskington International Laboratory School of Scientific Research and Technological Advancement, where humans make up only a very small percentage of pupils.  Surrounded by 'beings' who all stand out from the crowd for various reasons, she soon realises that 'smarts' matter far more than looks and she finds herself immersed in lessons on Practical Quantum Mechanics, Temporal Management Theory, Exobiology and Electronic Combat, and experiences the perils of travelling by wormhole.  At the same time, she is trying to work out how to save her father and discover the whereabouts of an Old One called Tabbabitha, who she senses is close at hand…
'I'm going to tell you something that was a new discovery for me, something most people probably know already: having friends is nice'
This is a witty, well-written, sci-fi book which will appeal to adults as well as children.  It is pacey, exciting and full of gadgets and futuristic science stuff, which I (sort of) kept up with!  Oh – and let's not forget the Howler Killer Monkeys and killer bees too.  What I liked about Nikola is that while she is uber-bright, she is not perfect; she accepts that she is insecure around people, which she hides behind a confident, cocky facade.  This layer of vulnerability is woven throughout the text, which really appealed to me.  It was great to see that Sappingfield didn't trivialise her insecurities by having her fit completely into her 'new world' life where everyone is as smart as she is.  At Plaskington's, she grows as a person: she has to understand a new social code, learn how to embrace some of her classmates' idiosyncracies, and deal with the emotional stress of knowing that her father is being held captive.  In time she comes to realise that she should not judge people until she truly gets to know them.  She also begins to understand that having people on her side is not only a good thing, but that friends' support during times of crisis can make the difference between success and failure (and it really helps if your friends can communicate in morse code too!).
'Get out there and make friends with jerks and idiots and terrible people, because when you stop looking for the worst in people, that's when you see the good stuff'
While I don't want to give away any spoilers, the book's main plot remains unresolved, and so I'm hoping this is an indication that there is more to come, whether that be a sequel or a series.  There is definitely room for the story to be developed futher.  At the moment I've only found the book available on Amazon, but hopefully it will be more widely available soon; it is aimed at the 10 – 12 age bracket*.  Due to its witty dialogue, underlying friendship angle, and sassy female protagonist, I think that the book would appeal to a broader base than just sci-fi lovers.  Give it a go – it's well worth a read.
---
*I include publisher age ranges as a guide only.
Additional book information:
A Problematic Paradox
Author: Eliot Sappingfield
Publisher: G P Putnam's Sons Books for Young Readers (23 Jan 18)
ISBN-13: 9781524738457