As promised, here is the second post containing the final 4 picture books currently in our family book vault.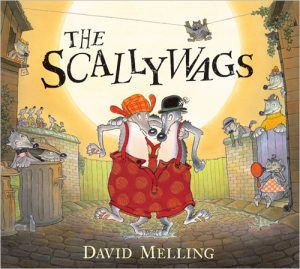 The Scallywags by David Melling. David Melling is probably better known for his Hugless Douglas stories (which are also great), but this was one of the first books to make my daughter laugh out loud! It's about a pack of wolves who don't possess any manners and as a result, they are cast out by the other animals. The Scallywags thus decide to teach themselves how to behave. With expressive, hilarious writing and colourful, detailed illustrations, this story is great fun. Favourite lines include 'you hairy nincompoops' (which was quoted regularly by our daughter) and 'excuse me, ……. please don't slurp your soup, it gives me wind. Thank you so much'. I can't guarantee that your children's manners will improve from reading this book, but it will definitely make them smile. I had the good fortune to receive a message from David Melling recently on Twitter, and he told me that he had had such good fun writing this – it definitely shows.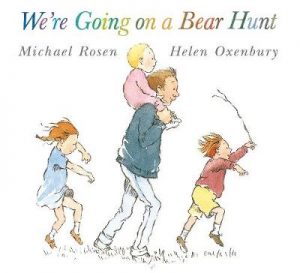 We're Going on a Bear Hunt by Michael Rosen and Helen Oxenbury. 'We're going on a bear hunt, we're going to catch a big one, what a beautiful day, we're not scared…' A story about a family who go on an adventure to find a bear, written with a wonderful mix of rhyme and repetition and lots of onomatopoeia thrown in. Such is the success of the book in our house, that we often used to go on bear hunt walks in the local woods, reciting the story and looking for bear caves. And it seems we are not alone, judging by the comments I received on Twitter about the book recently. There is also a fab YouTube video of Michael Rosen reciting the story, which the children also really enjoyed – definitely worth checking it out. Be warned, though, once the rhyme is in your head, it will never truly disappear…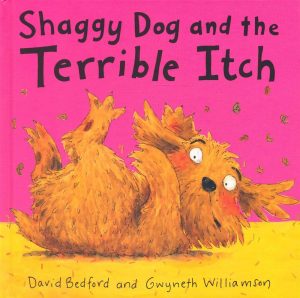 Shaggy Dog and the Terrible Itch by David Bedford and illustrated by Gwyneth Williamson. Unfortunately as I write this, this book is out of stock everywhere, but it is such a favourite of ours that I couldn't leave it out. You can thankfully buy it second hand, though, on Amazon and Ebay. The title pretty much sums up the story: at the beginning of the book, we see a flea bound up and land on Shaggy Dog's fur (both our kids used to love to trace the flea's progress with their fingers). Shaggy Dog thus finds that his back is very itchy and he enlists a number of people to help him scratch his back, who, in return, ask him to help them in various ways. Only the snooty Mimi the Poodle won't help, but she gets her comeuppance in the end. As with all successful books for young children, there is a sprinkling of repetition and lines to join in with. Our copy of the book is a victim of its own success – battle-scarred, with sellotape everywhere.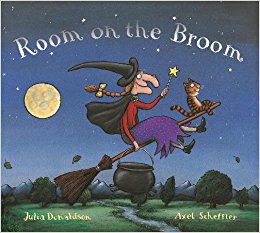 Room on the Broom by Julia Donaldson and illustrated by Axel Scheffler. 'The witch had a cat and a very tall hat, and long ginger hair with she wore in a plait'. We received a copy of this book as a Christmas gift, and what a gift it was. Julia Donaldson is such a talented lady, and her expressive, rhyming text, coupled with her interesting characters – and Axel Scheffler's fabulous illustrations, of course – make it a force to be reckoned with. It is, without doubt, my favourite Julia Donaldson story, which is saying something given that she has written so many great books. There are some cracking lines in the text, such as 'I'm planning to have witch and chips for my tea', which you'll fnd yourself quoting for years to come.
And there you have it, all the picture books currently in our book vault. It's made me quite nostalgic reviewing these books as it reminds me of those precious early years with our children (when they were too young to answer back!). I might just flick through the books again, before I pop them safely away…
---
Additional book information:
The Scallywags
Publisher: Hodder Children's Books
ISBN: 9780340884065
Paperback: 32 pages
Dimensions: 268 x 245 x 5 mm
We're Going on a Bear Hunt
Publisher: Walker Books Ltd
ISBN: 9780744523232
Paperback: 40 pages
Dimensions: 240 x 270 x 5 mm
Shaggy Dog and the Terrible Itch
Publisher: Little Tiger Press Group
ISBN: 9781845060770
Hardback: 28 pages
Dimensions: 190 x 190 x 9 mm
Room on The Broom
Publisher: Pan Macmillan
ISBN: 9780333903384
Paperback: 32 pages
Dimensions: 250 x 281 x 5 mm