Happy New Year Bookworms!
My husband will tell you that I am obsessed with buying books for our children and as such, we have amassed a significant number of them over the past 6 years. While I can honestly say that we have read them all, there have been some definite favourites that I would place in the Merry Bookworm family book vault. I tend to describe them as the books that we plan to keep for future Merry Bookworm generations. Here are a few of the picture books already in there. Our versions are all paperback, but as at the time of writing, all bar the Kipper Story Collection can also be purchased in board version…….
Goodnight Tractor by Michelle Robinson and illustrated by Nick East
As our son was crazy about tractors as a very young boy, this book became a firm favourite – my husband and I read this so often that we very quickly became word perfect. A short, rhyming story (typically one line of text on each page), with colourful and interesting illustrations, it is perfect for wind down/bedtime. It is part of a series of 'Goodnight…..' books, all with the same fail-safe format, covering santa, pirates, diggers and princesses. I believe there is also a new version out, Goodnight Spaceman, which was inspired by Tim Peake and his sons and contains an inspirational letter from the man himself.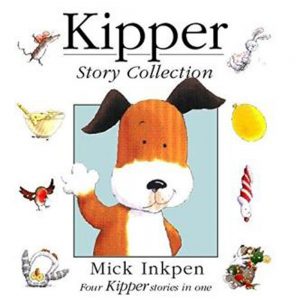 Kipper Story Collection by Mick Inkpen
All members of the Merry Bookworm household loved the entire Kipper series. We started with the Kipper Story collection (four Kipper stories in one: Kipper, Kipper's Toybox, Kipper's Birthday and Kipper's Snowy Day), but soon ended up purchasing the remainder of the series, with other favourites being Kipper's Beach Ball and Kipper's Christmas Eve. Kipper is a loveable pup, and the stories revolve around his various antics, which often involve his other dog and animal friends. Mick Inkpen, who both writes and illustrates the stories, really brings the characters to life with his consistent and simple writing style. These are longer stories and we found that our children remained interested in them for a broader period of time (up to around the age of four). Mick Inkpen says that all writers want their books to become dog-eared and familiar, and that's exactly what happened in our house with Kipper.
Each Peach Pear Plum by Janet and Allan Ahlberg
The blurb on the back cover sums this book up perfectly "In this book with your little eye, take a look and play I Spy". This is another rhyming book with beautifully drawn, detailed illustrations. On each double-spread page, the text asks the reader to find characters such as Cinderella, Mother Hubbard, Jack and Jill, etc. in the illustration on the opposite page (the children have to look quite carefully to spot the characters). My husband used to particularly enjoy reading this to both of our children at bedtime. During the week he wouldn't get home from work until story time and this book, with its gentle, interactive nature, was perfect as it allowed him to engage with the children without winding them up before bedtime.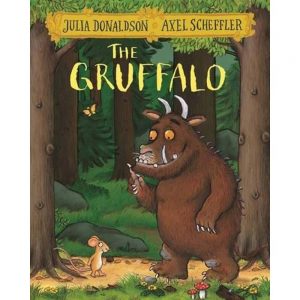 The Gruffalo by Julia Donaldson and illustrated by Axel Scheffler
The first of two Julia Donaldson/Axel Scheffler books in our family book vault, this iconic, award-winning story is one of my son's favourites. He particularly loves the 'under dog' storyline and the vibrant illustrations. We adults love it for its cleverly written, rhyming text and the fact that the story lends itself to using lots of different character voices, which obviously helps to bring it to life (another reason why my son loves it so much). A really fab read – and there's a follow-on, The Gruffalo's Child, if your child (or you!) becomes addicted!
Before I go, it's worth mentioning that I have had these books next to me as I've typed this blog (they are not on our bookcase any more as the children are now older and I don't have enough space to have all the children's books out all of the time). As soon as the children spotted them, they dashed over to the kitchen table, really excited to see them. The first words out of our son's mouth were "These are my favourite books!". They are both currently playing I-Spy with Each Peach Pear Plum………… Maybe I need to buy some extra bookshelves……..
---
Additional Book Information:
Goodnight Tractor
Publisher: Puffin Books
ISBN: 9780141342856
Paperback: 32 pages
Dimensions: 274 x 244 x 3 mm
Kipper Story Collection
Publisher: Hodder Children's Books; New Ed edition (21 Sep 00)
ISBN 13: 9780340746769
Paperback: 112 pages
Dimensions: 216 x 235 x 13 mm
Each Peach Pear Plum
Publisher: Puffin Books
ISBN-13: 9780140509199
Paperback: 32 pages
Dimensions: 191 x 243 x 3 mm
The Gruffalo
Publisher: Macmillan Children's Books; UK ed. edition (21 Apr 16)
ISBN-13: 978-1509804757
Paperback: 32 pages
Dimensions: 225 x 280 x 5 mm