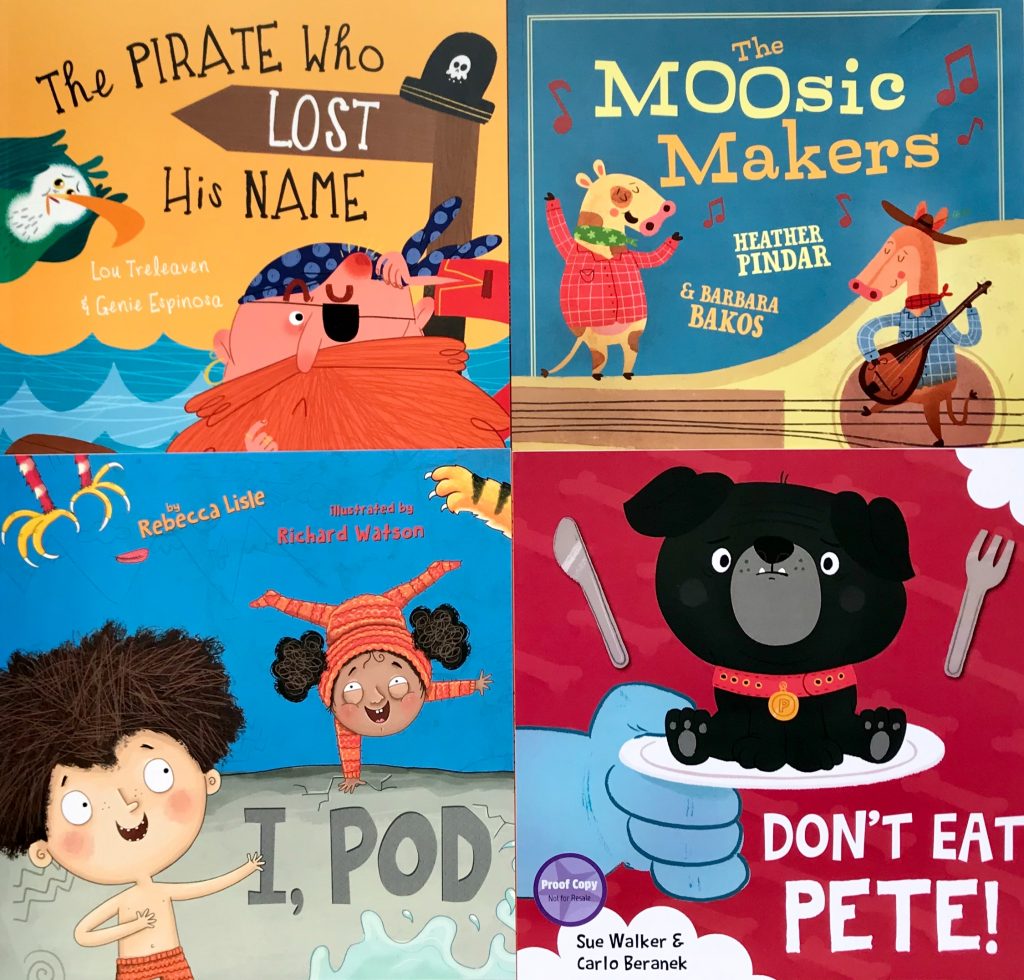 Now that both of my children are independent readers I don't buy as many picture books as I used to, and so I was delighted when the lovely Val from Maverick Arts Publishing sent us a selection of latest picture books to take a look at. Seeing the children react so enthusiastically to them was a timely reminder that picture books are just as important for encouraging reading for pleasure in Key Stage 1 (and even older) children as they are in Pre-School and Early Years…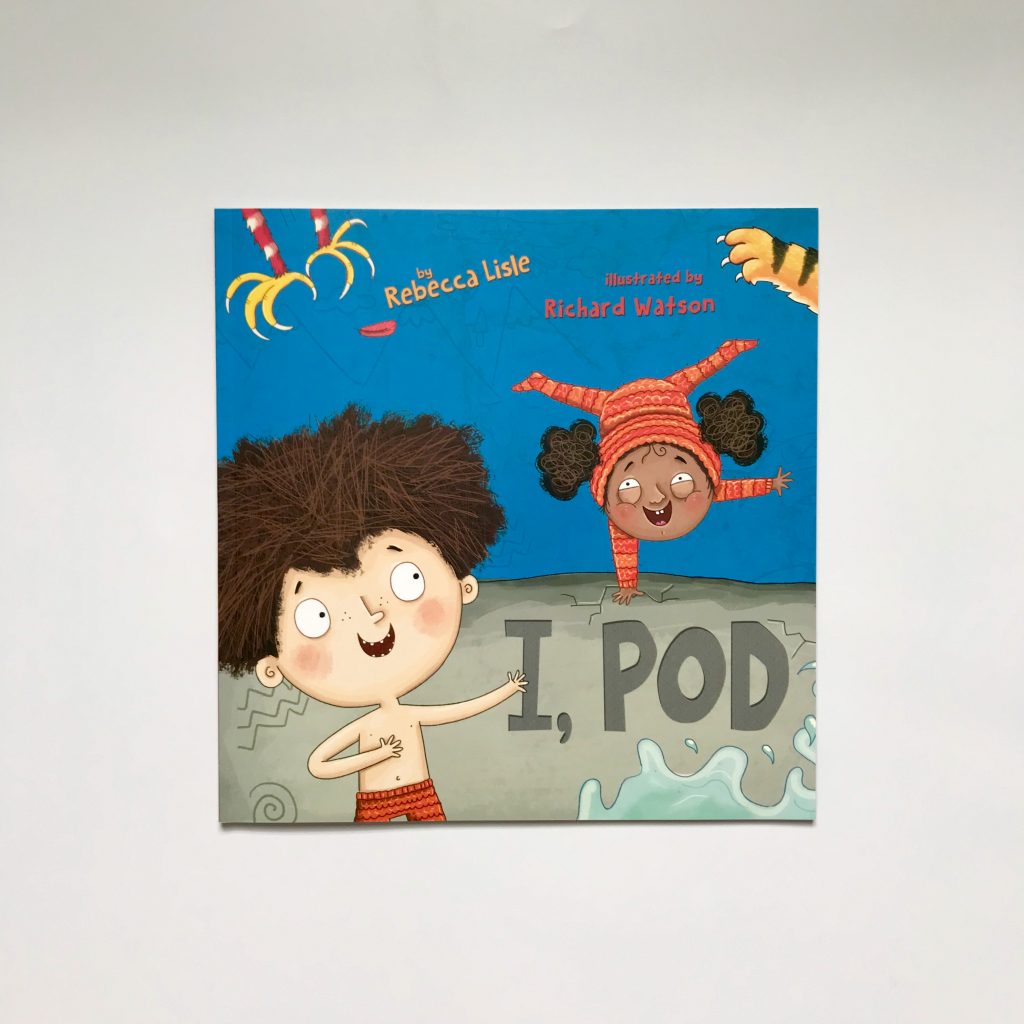 I, Pod by Rebecca Lisle and Richard Watson. Pod is given responsibility for looking after his baby sister (Nim) but his attempts at babysitting – during which he tries to teach Nim his name and builds her a swing to keep her entertained – go from bad to worse. Thankfully Pod's pet mammoth saves the day, but will Pod be able to hide the day's events from his Mum, or will the cat be let out of the bag?
Rebecca and Richard definitely have another hit on their hands with this third book in the 'Stone Age Stories' series. Hugo loved this story in particular, laughing his head off when Nim kept getting Pod's name wrong (by the time he got to 'Poo' he was in hysterics!). The story is entertaining and engaging, the 'chase' element provides excitement, and there's lots of descriptive language and onomatopoeia to help bring the story to life. H also loved the bold and expressive illustrations, which almost leap off the page. Super stuff…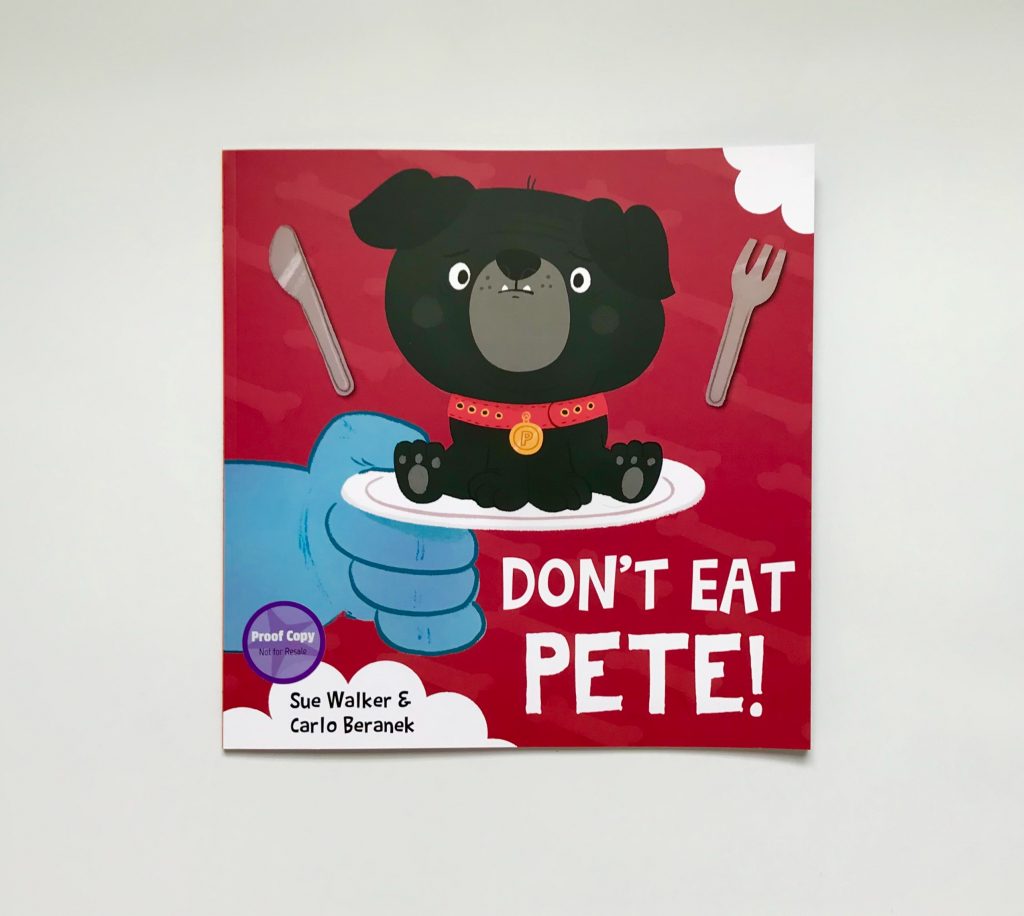 Don't Eat Pete! by Sue Walker and Carlo Beranek. Moll's Uncle Boll has a HUGE appetite and so when she asks him to babysit her new puppy, Pete, she makes sure that there's plenty of tasty treats for him. Will Boll be satisfied by what she's provided, or will he be tempted to turn Pete into the snack of the century?
This is a cracking rhyming story that my kids have asked for over and over again, joining in at the top of their voices 'DON'T EAT PETE!'. The rhyming text flows smoothly, which makes it a joy to read out loud and there are some great rhyming pairs to help expand vocabulary. The children love the ending and both agree that 'meanybobs' Uncle Pete definitely deserves his comeuppance! A refreshingly daft, 'will he, won't he' story with comical and colourful illustrations.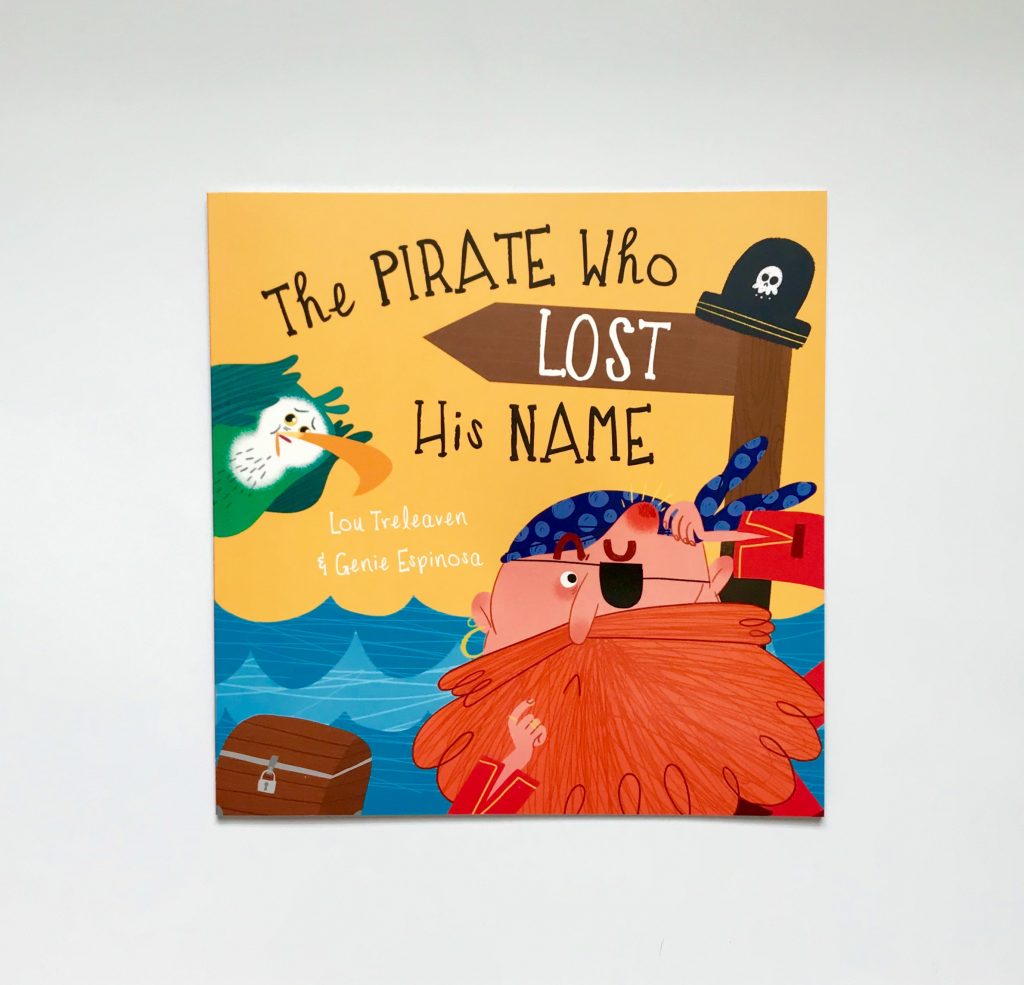 The Pirate who Lost his Name by Lou Treleaven and Genie Espinosa. There once was a pirate, a piratey pirate, a pirate who would probably be the most piratey pirate ever known, if only he could remember his name (and it's not Pirate McPiratey Face…)!

This is a brilliantly entertaining story, where we are introduced to a whole host of interesting and aptly-named pirates of both sexes, our favourites being Captains Megabeard, Weirdybeard and There's-parrots-in-me-beard! There are boastful pirates, romantic pirates, nerdy pirates and even hairdresser pirates and our nameless pirate visits a number of them on his quest to remember his name, supported by his trusty feathery sidekick (who cleverly provides some helpful clues along the way). As you might expect from such a piratey story, there's lots of pirate speak, which will encourage even the most reluctant readers to use their best piratey voices when reading out loud. Plus, the bright, hilarious illustrations show each and every pirate off to their stereotypical best! I've read this story so many times now, and it still makes me chuckle and smile. It's a really great read…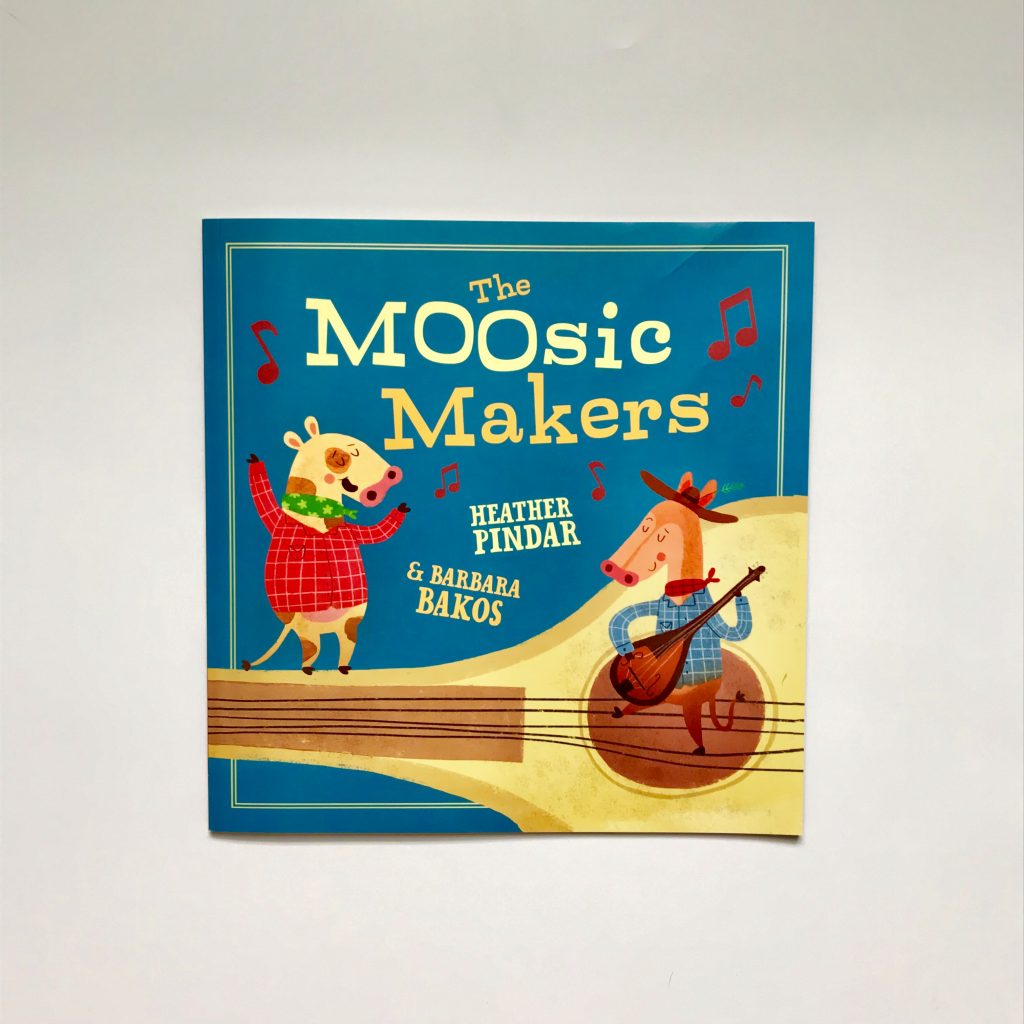 The Moosic Makers written by Heather Pindar and Barbara Bakos. Nutmeg and Celery love playing MOO-grass music (even though their friends would like to join in too) and decide to raise money for Farmer Joni's new barn roof by busking. Unfortunately they are seduced by a corrupt music mogul, who makes them change their music style and dress. Soon after, they are playing disCOW music at venues across the county and travelling everywhere by liMOOsine. Will the cows love the highlife or will they decide to MOOtiny?

Due to be released on July 25th, this is warm-hearted story about being yourself, not trusting strangers and the benefits of both teamwork and inclusion. What I love most about it is the language: the wordplay makes the children laugh and the descriptive writing makes it a real treat to share. I'm also really taken with Barbara Bakos' characterful and atmospheric illustrations and I'm loving Billy the Donkey, in the final scenes, rocking a sparkly pink dress! A very aMOOsing tale – or should that be tail?!
There you have it – 4 brillant, high-quality picture books, all of which have fab endpapers and a page for owners to write their name. I can tell just how much my children have enjoyed them by the fact that they keep squirreling them out of our reading corner and hiding them away in their rooms! I hope you spot one (or more!) that will appeal to your young readers too…
________________________________________
I,Pod
Author: Rebecca Lisle
Illustrator: Richard Watson
Publisher: Maverick Arts Publishing
ISBN: 9781848864061
Paperback: 32 pages

Don't Eat Pete
Author: Sue Walker
Illustrator: Carlo Beranek
Publisher: Maverick Arts Publishing
ISBN: 9781848864269
Paperback: 32 pages

The Pirate who Lost his Name
Author: Lou Treleaven
Illustrator: Genie Espinosa
Publisher: Maverick Arts Publishing
ISBN: 9781848864078
Paperback: 32 pages

The Moosic Makers
Author: Heather Pindar
Illustrator: Barbara Bakos
Publisher: Maverick Arts Publishing
ISBN: 978184864276
Paperback: 32 pages