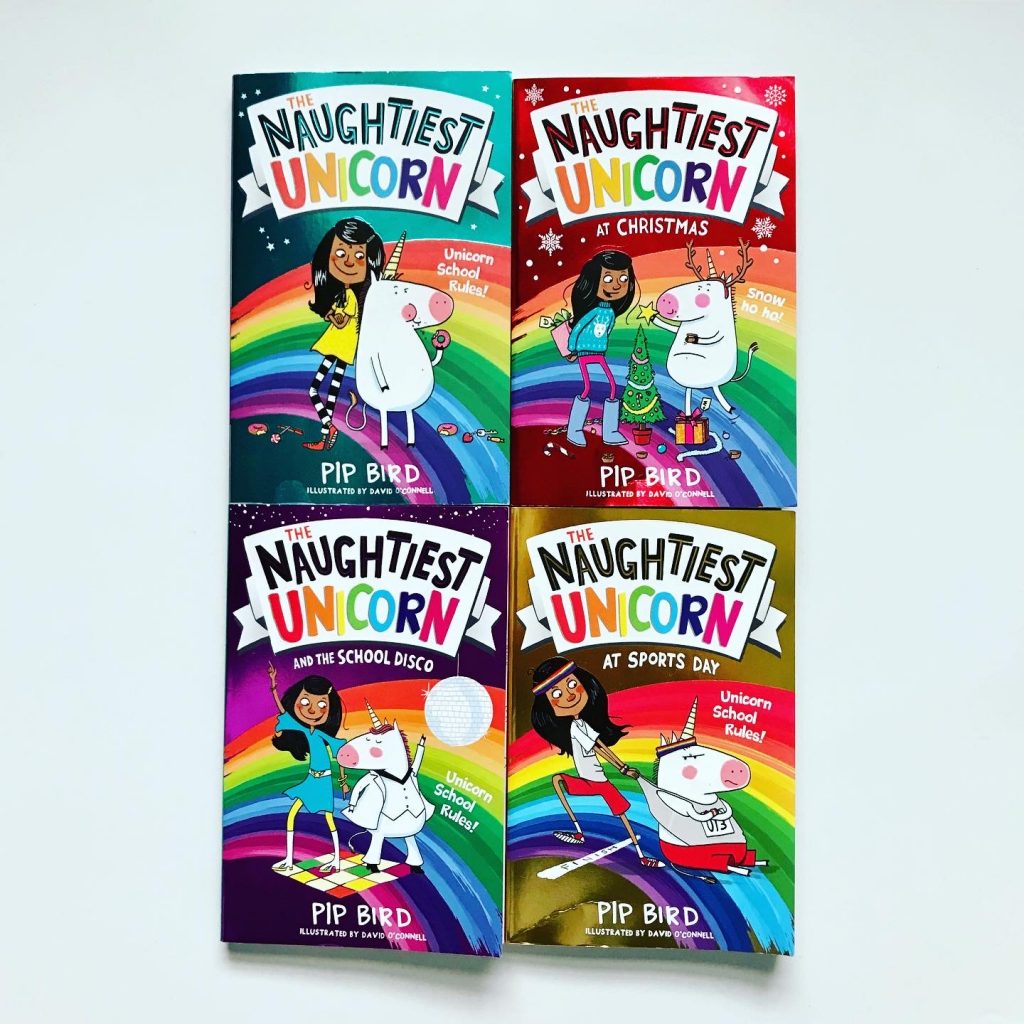 If I asked what type of illustrated fiction parents love to hate, I suspect most would say anything fairy or unicorn related due to the overload of glitter, magic kingdoms and flying over rainbows… What if, however, I introduced you to a series that does indeed include unicorns and a magic kingdom, but that's where the similarity ends?
Say hello to Dave: a rather overweight unicorn, with a penchant for doughnuts, who doesn't do glitter (well, only on the odd occasion…). Dave is the sort of unicorn who falls asleep during unicorn history lessons – King Henry the Neighth and Queen Boudiccorn anyone? – eats all the Christmas Play scripts, and who really doesn't want to sully his sweatband on sports day unless there's a culinary incentive. Quite frankly, Dave gives unicorns a bit of a bad name…

Dave gave Mira a sideways glance and then did a long, rumbling fart.
Poor Mira, who has been desperate to join her older sibling at Unicorn School, has a bit of a shock when she gets paired up with Dave on the first day of term. She was obviously expecting a bit more glitter and a lot less attitude, but she looks on the positive side and tries everything she can to bond with her unicorn so that they can go on their first magic quest together. Dave, however, has other ideas and seems more intent on growing his pot belly, gaining Havoc Points and sitting in the Naughty Stall. In time, though, they become UBFFs (Unicorn Best Friends Forever, obvs) and, along with their friends, gallop off on adventures galore with a fair bit of madness and mayhem thrown in for good measure.
As you might have gathered, these stories are just a little bit bonkers. Cunningly addictive and with a healthy dollop of toilet humour, my 8-year-old has cried laughing reading this series and has powered her way through the 4 books in a fortnight, even waking up early so that she can read a chapter before getting ready for school (it's normally like waking the dead, so this early rising is most unheard of). In fact, I have been instructed in no uncertain terms to pre-order both number 5 (which comes out on World Book Day) and number 6 of the series (out July 2020) as she has enjoyed them so much. While the stories are funny and entertaining in themselves, what really takes them up a gear is David O'Connell's brilliant, comical illustrations – who knew unicorns had so many facial expressions? I also like the up-to-date characterisation: Unicorn School is not just for girls – an equal number of boys attend too – and there are plenty of inclusive characters.
Go on, confess: you all want to read them now, don't you? Dave the unicorn is one cool dude and he doesn't do glitter poo. Be more Dave…