This is our final reading roundup of the Summer break, which means that the children are about to return to school. I don't know about you, but I'm really looking forward to a little peace and quiet and the ability to catch up on my reading pile!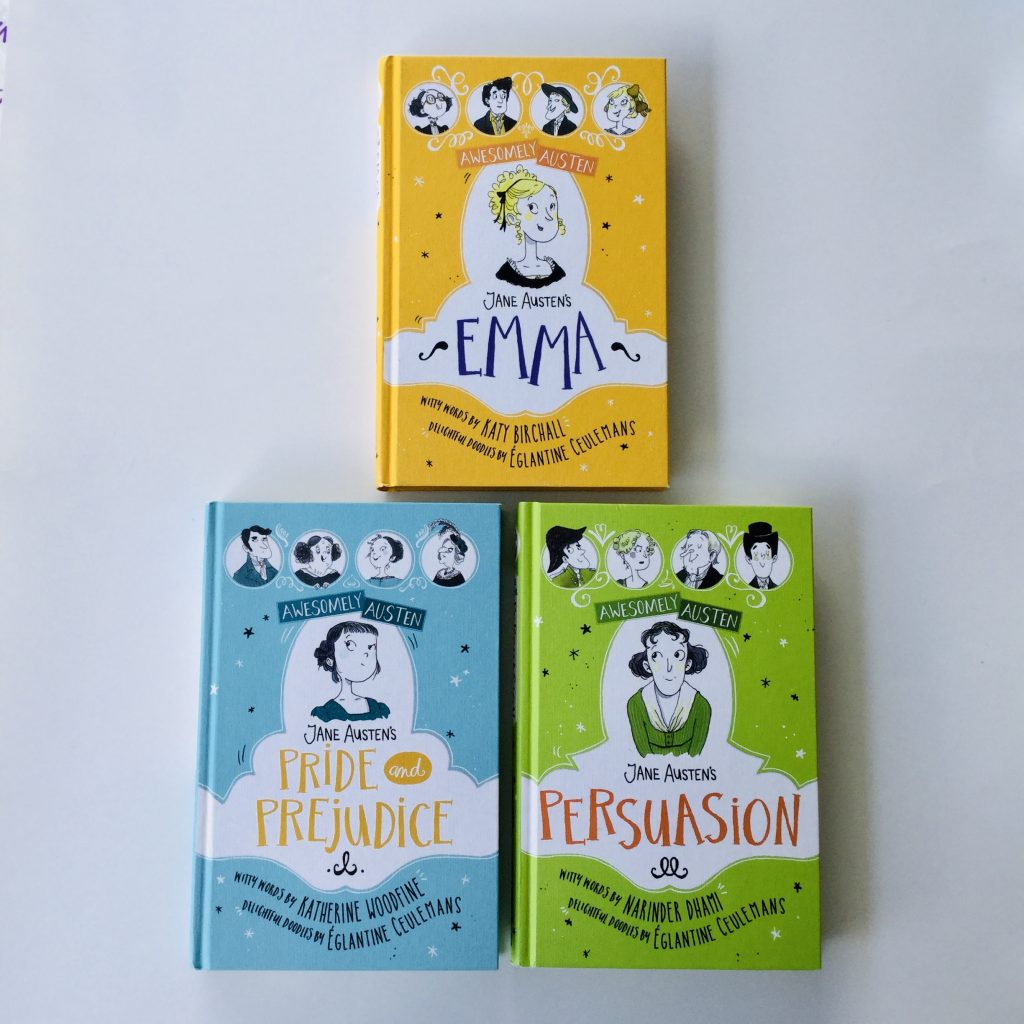 First up today are these superb, illustrated Austen re-tellings. There are actually 6 in the set, I just treated myself to these 3 first, as they're my favourite stories. I've got to say that I'm really impressed with them. They contain all the essential elements of the originals and while each is told using more modern English, it's done in such a way as to retain the period charm and style. There are character lists for each book and information about both Austen and regency life to help set the stories in context. I also love the aesthetics: beautiful hardback covers, fab end papers and charming, expressive illustrations. A brilliant way to introduce Austen to a junior school audience (I would have LOVED these as a child), I'm now off to order the next 3 to complete the set.
Awesomely Austen (Hardbacks)
Pride & Prejudice retold by Katherine Woodfine. ISBN: 9781444949957
Persuasion retold by Narinder Dhami. ISBN: 9781444950632
Emma retold by Katy Birchall. ISBN: 9781444950656
Series illustrated by Eglantine Ceulemans and published by Hachette Children's Group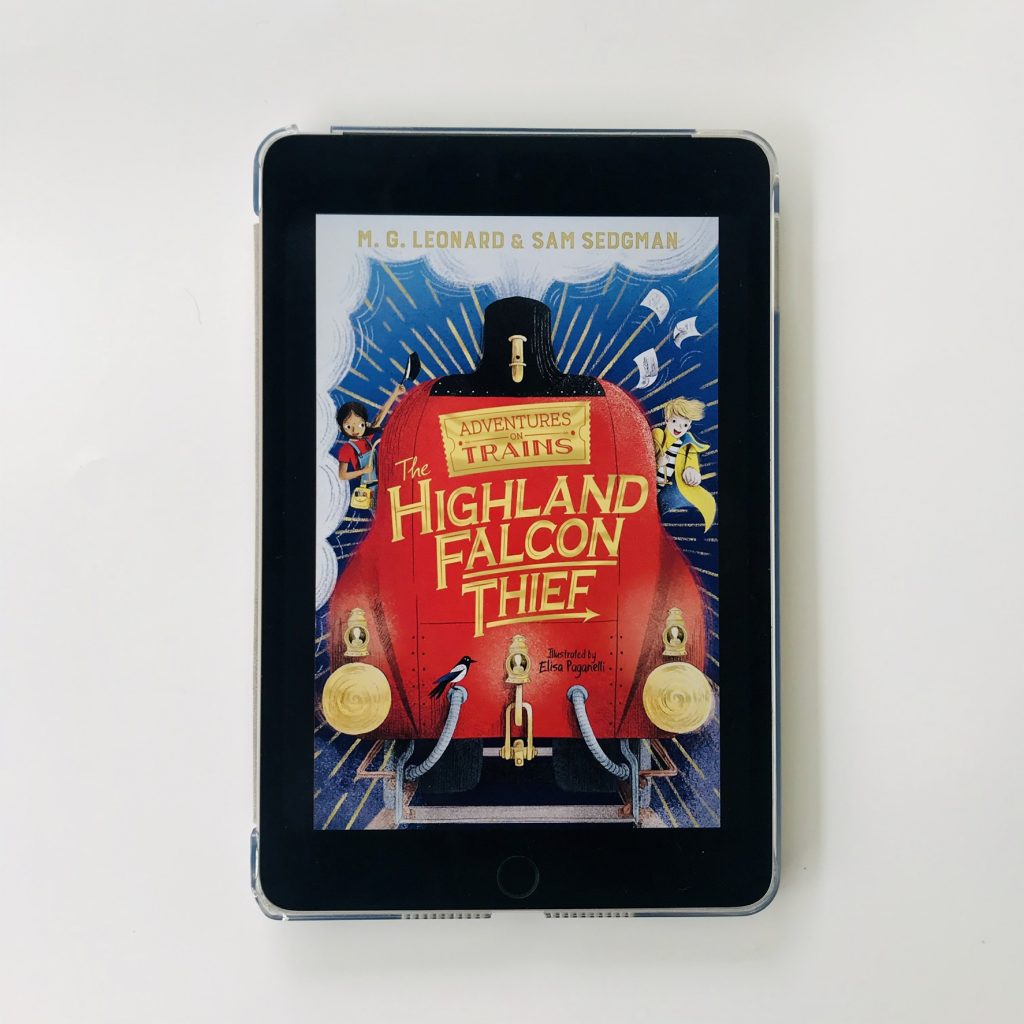 Called me old fashioned, but I think that there's something very special about riding on steam trains. As a family, we travel on the East Lancs Railway every year and the atmospheric atmosphere gets to me every time. I thus knew that this story would be right up my street as soon as I read the blurb.
Hal's mum is about to give birth and so his uncle, a travel writer, arranges for Hal to accompany him on the royal steam train's farewell tour of the UK. Shortly after departing King's Cross, a piece of vaulable jewellery belonging to one of the high-society passengers goes missing, followed shortly by another, and then a couple of days after that – horror or horrors! – the theft of royal jewels! Meeting up with a stowaway, Hal finds himself in full investigative mode, trying to solve the crime before the journey ends and the culprit makes off with the swag!
This is a brilliant romp of a story for readers aged 8/9+: loads of atmosphere and descriptive detail, lots of clues leading you this way and that, and a race-against-time ending make it an exciting a very satisfying read (anyone who is able to guess where the jewels have been hidden definitely needs to consider a career in CID!). With a finale worthy of Christie herself, it's like a modern-day Murder on the Orient Express, just with jewels instead of bodies. I really loved it (and the next in the series is now out!).
The Highland Falcon Thief
Authors: M G Leonard and Sam Sedgman
Cover Art: Elisa Paganelli
ISBN: 9781529013078
Publisher: Macmillan Children's Books
Finally, I've had this book on my reading pile for well over a year, and so I thought that it was about time that I opened the cover. Set in an American middle school, the story navigates the ups and downs of friendship and school life, highlighting in particular the significant impact that words can have: positive, negative and, at times, life changing. It took me a while to get into this – it felt a little slow to begin with – but I liked the dry wit of the narrator (he reminded me of a younger version of Harlan Coben's Myron Bolitar), and also the interesting premise that between electronic and traditional messaging, texts were eventually seen as the lesser of 2 evils in school. As a result, mobile phones were allowed back in school (but obviously not in the classroom), while sticky notes were banned on school grounds due to the anonymity they afforded authors. To be honest, this wasn't my favourite read of the year, but it was definitely different to other stories that I've read recently.
Posted (Paperback)
Author: John David Anderson
Cover Art: Rafael Mayani
Publisher: Harper Collins
ISBN: 9780062338211
Right, that brings our Summer reading up to date. I hope you all have a smooth start to the school year and fingers crossed that distance learning becomes a thing of the past.