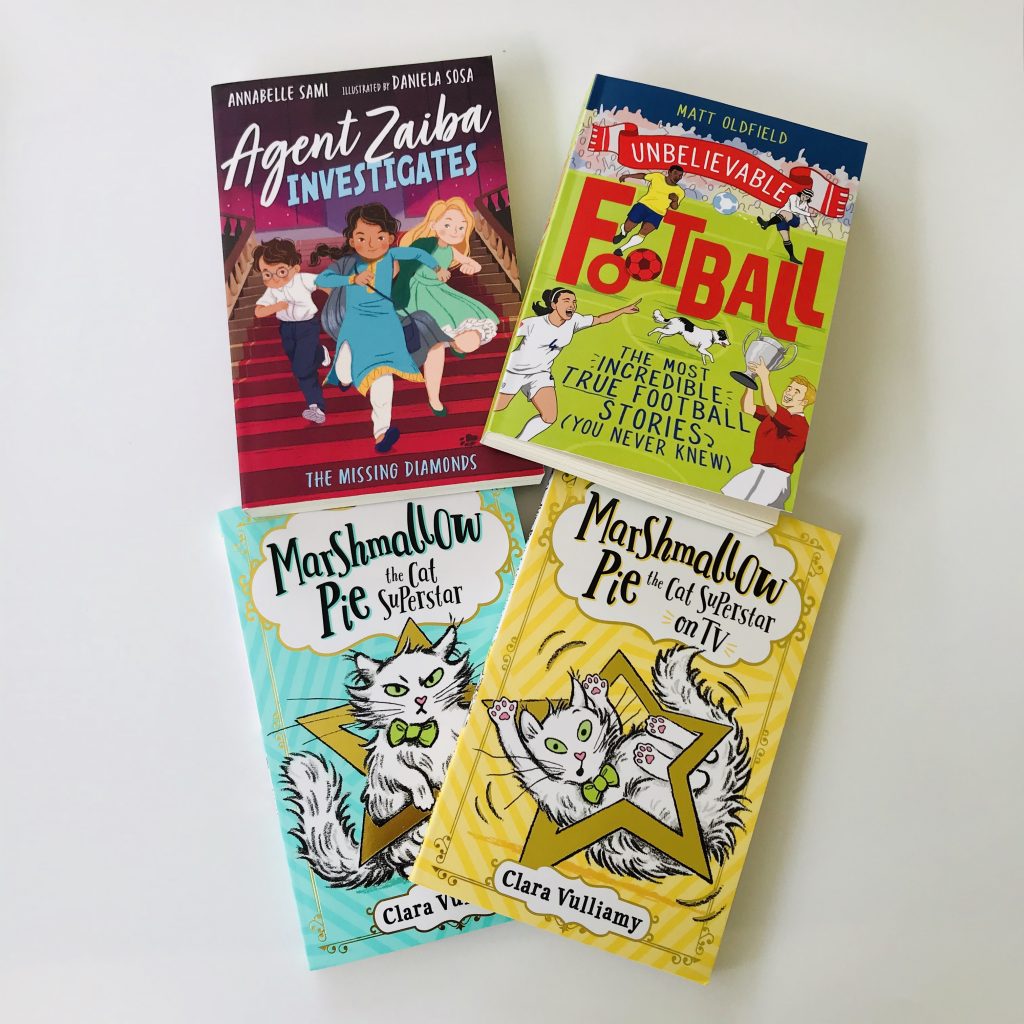 Is anyone else wondering where the first few of weeks of the holidays have gone? If you're unlucky enough to be already hearing cries of boredom, hopefully some of these reading recommendations might just do the trick…
First up today is Agent Zaiba Investigates: The Missing Diamonds. This is a pacey, 'whodunnit' mystery, which is full of intrigue and also dotted throughout with clues for readers who want to play detective too. Zaiba is a British Pakistani girl who has a younger brother, Ali, and a best friend, Poppy: together they combine and hone their sleuthing skills to ultimately crack the case – team work makes the dream work! With a multi-cultural cast of characters and a VIP storyline for somed added razzmatazz, I particularly loved how elements of Pakistani culture were woven into the story, which will make the setting very familiar to some, and new and interesting to others. I also liked the Agatha Christie-style ending, with everyone gathered in one room when the culprits were revealed.
With some great illustrations and page decoration interspersed throughout, this book is a brilliant introduction to middle grade (MG) detective stories: all the enjoyment of a thrilling mystery but not a dead body in sight, which means that younger MG readers aged 7/8+ can enjoy the story too. There's also a fab section at the back providing tricks and tips of the trade, along with some interesting facts about Mehndi parties. I'm now really looking forward to reading the next in the series – Agent Zaiba Investigates: The Poison Plot, which has just been released, so for once I don't have to wait long for my next fix!
Agent Zaiba Investigates: The Missing Diamonds (Paperback)
Author: Annabelle Sami
Illustrator: Daniela Sosa
Publisher: Stripes Publishing Limited
ISBN: 9781788952064
Just when I thought we possessed every football book known to man, my son came across this! It's a compendium of over 30 fascinating stories relating to the beautiful game, from Paul, the results-predicting octopus (and yes, he was very successful!), to Chelsea star Didier Drogba bringing peace to the Ivory Coast. Fans will definitely be able to impress their mates with their weird and wonderful knowledge after reading this, and with each story only a few pages long, it will appeal to those who don't like lengthy reads. I've quite enjoyed browsing through it this morning with a sneaky cup of tea (it would make a great reference book for quiz compilers) and even our 'spanner', Watson, is now in the mood for a game…
Unbelievable Football (Paperback)
Author: Matt Oldfield
Illustrator: Ollie Mann
Publisher: Hachette Children's Group
ISBN: 9781526362445
We are big fans of illustrated fiction in this house and what a great new series this is. Marshmallow Pie is fab, funny and very fluffy! Narrated by the feline star of the show himself, Pie's aloof, disdainful attitude towards humans, kittens and dogs will make any cat owner (or should that be cat servant?) – child or adult – both nod with acknowledgement and laugh out loud. That said, I do like how he has a feline conscience lurking underneath his regal, confident exterior, even if it only makes an appearance when absolutely necessary!

Alongside the entertaining storyline and brilliant illustrations (the pic of the 2 cats teasing the dog with their tails makes me chuckle every time I see it), there are some lovely little extra touches such as a map at the start of each story and fabulous chapter headers illustrated with their own whiskers and ears. We've raced through the books this weekend, the only downside being that we've now got to wait until Jan for the next in the series to be published ?.
Marshmallow Pie the Cat Superstar
Author & Illustrator: Clara Vulliamy
Publisher: HarperCollins
ISBN: 9780008355852
Paperback: 128 pages
Marshmallow Pie the Cat Superstar on TV
Author & Illustrator: Clara Vulliamy
Publisher: HarperCollins
ISBN: 9780008355890
Paperback: 128 pages