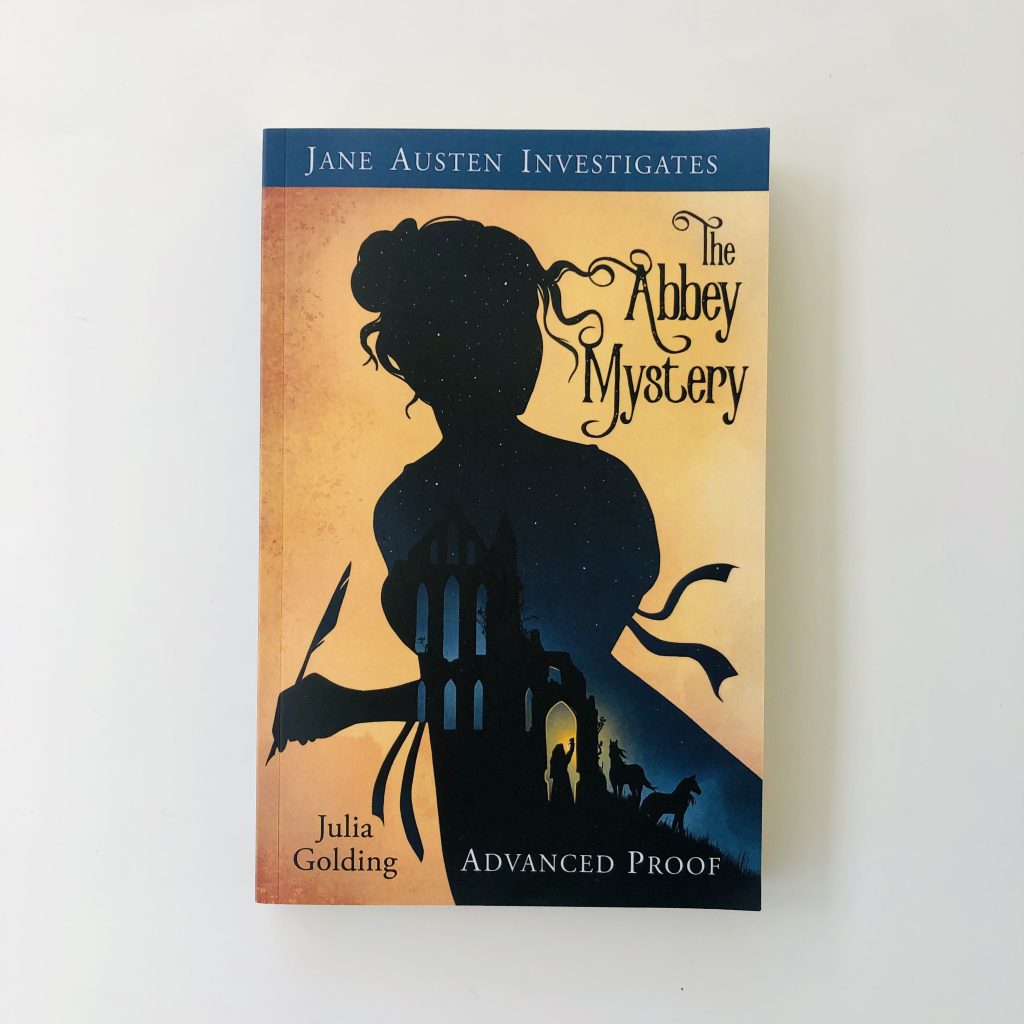 It's a truth universally acknowledged (well, it is in my house, anyway!) that Julia Golding is fast becoming one of my favourite authors. After diving into the mystical world of the Companions series, and travelling back in time with The Tigers in the Tower, I was delighted to be invited to join the blog tour for Julia's latest release – The Abbey Mystery – particularly when I realised that the protagonist was none other than Jane Austen herself!
It's 1789 and a teenage Jane Austen, daughter of a clergyman, accidentally finds herself companion to Lady Cromwell in the midst of preparations for a coming-of-age party. Jane has heard stories about a ghostly monk who resides in Southmoor Abbey's grounds and she is very keen to get to the bottom of the mystery. She soon discovers there are more strange goings-on than just the monk and, with a small group of new friends ready to help, she puts her investigative skills to the test…
I've thoroughly enjoyed this entertaining and intriguing historical mystery and I love the fact that it introduces middle grade readers to Jane Austen. As she was in real life, fictional Jane is a girl unafraid to challenge the stereotype and restrictions placed on young ladies by society at that time. She is curious, intelligent, witty, observant and chooses friends based on personal qualities rather than class. We also see nods to Jane's future career as a writer as she loves to read and is something of a wordsmith, which comes to the fore in some cleverly-written letters interspersed between chapters.
I particularly like how the mystery develops throughout the story; we start with the gothic-style premise of a ghostly mystery but, as the book progresses, intriguing events occur leaving readers wondering if, how and why these strands tie together. I also like how the country estate backdrop adds richness to the story by providing a thought-provoking social commentary on the Georgian period – with its adherence to class, gender and culture-based strictures – right down to the hierarchical distinctions within the household staff. We see a young stablehand demonstrating considerable engineering skills, whose dreams are unlikely to be realised due to his lowly social status, and likewise a chef and his daughter who were brought over from India under false pretences and treated appallingly by the Lord and with distrust by some of the staff due to cultural differences.
In all, The Abbey Mystery is an absolute gem of a mystery story and a fantastic start to the Jane Austen Investigates series. I always feel with Julia's books that she doesn't just want to tell us a story, but to give us an immersive experience, and that's exactly what she's done yet again. The Burgler's Ball, the second in the series, is due for release in the Autumn and I for one can't wait to read it.
A big thank you to Fern at Lion Hudson for both my advance copy and inviting me to join the tour. Do check out some of the other brilliant book tour reviews, which you'll find on Fern's Twitter account: @Reviewsbluebird.