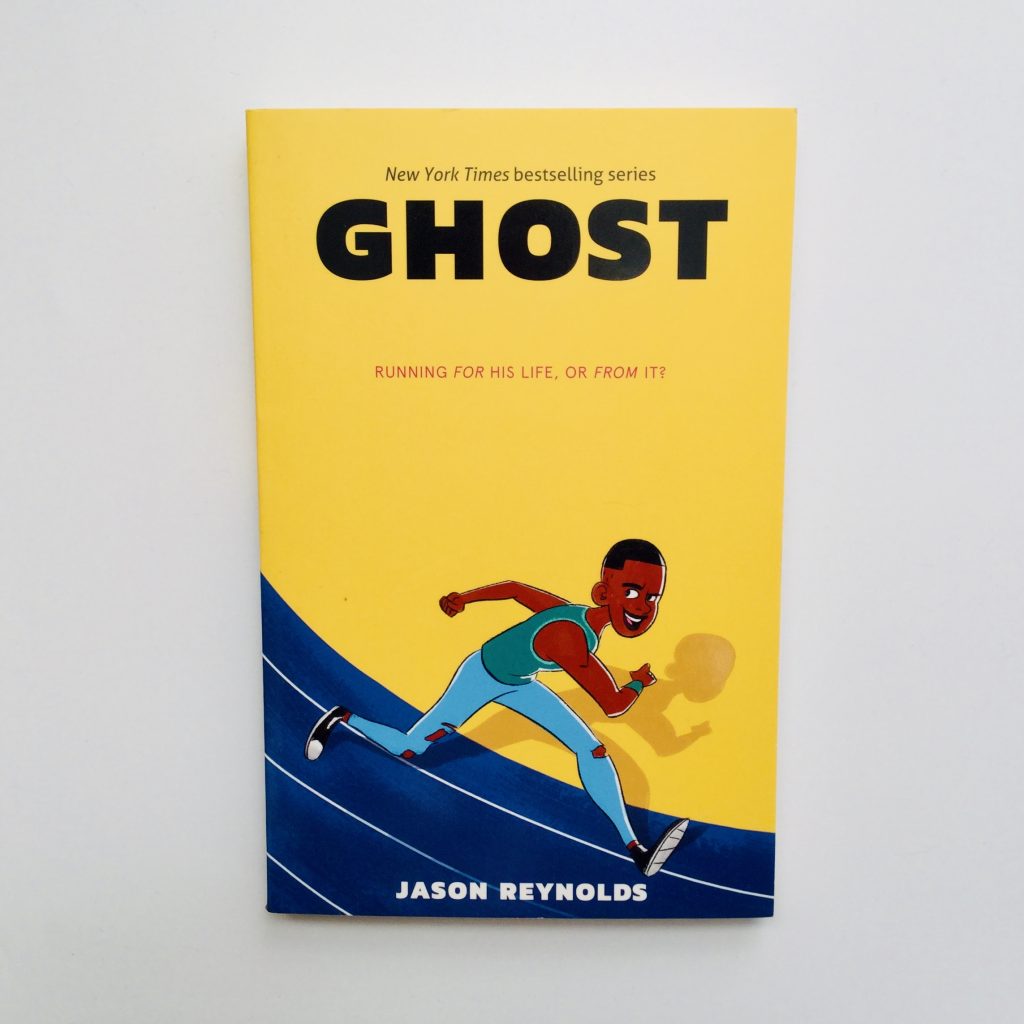 I have been a member of Twitter's #PrimarySchoolBookClub since its inception last year and Ghost is its current read. I actually hadn't heard of the book until I found out it had been crowned 'March's pick' in the vote at the end of February. However, I was aware of the publisher – Knights Of – which is known for commissioning writers and illustrators from a diverse range of backgrounds, so my interest was piqued. I opened the cover the day it arrived and ended up reading it in one sitting, which demonstrates why book clubs are so great, as they open your eyes to fabulous books that you didn't even know were out there…
You can't run away from who you are, but what you can do is run toward who you want to be.
Ghost is the first part of the Run series and features a young boy called Castle Cranshaw, who is known as 'Ghost'. Ghost has done a lot of running in his life, but not always for the right reasons. One day, he meets a track coach who spots real potential. However, running is about much more than speed – it requires discipline and mental stamina – so it's all down to Ghost to see if he can turn his life around.
The story is told in the first-person, with a moving initial chapter where Ghost describes growing up in an abusive environment, which culminated in him fleeing his home with his Mum, wearing only their nightclothes, while his father tried to shoot at them. There is one particular phrase that really struck me (quoted directly below), which gives a glimpse of the confusion inside Ghost's mind, with half of him scared stiff of his father's behaviour, the other half of him just wanting his Dad home. It truly set the scene for the remainder of the book.
They gave him 10 years in prison, and to be honest, I don't know if I'm happy about that or not. Sometimes, I wish he'd got forever in jail. Other times, I wish he was home on the couch…
I found the story a poignant and ultimately uplifting read about the power of sport, redemption, and friendship. It's refreshing to see the main 4 running club children coming from diverse backgrounds – and we are talking here about diversity in its broadest sense. All of them know what it is to feel different – whether that be because of their skin colour, domestic circumstances or social status – and so it's heartwarming to see their friendship grow as the story unfolds, which gives each child an inner-strength to draw upon. It's clear that the main characters have their own story to tell, which I guess will be drawn out throughout the book series. The character I loved the most, though, was Coach, who, defined by his own life experiences, gives of his own time and money to be a role model and true mentor to these children, which enables them to grow emotionally as well as physically – he is a real force for good.
The rest of the series isn't yet available over here; however, Knights Of has just announced that the next book – Patina – is due to be released in August, which I am thrilled about as I am now keen to explore the other characters' stories. While Ghost is marketed as middle grade (MG) book, you might want to take into consideration that there is mention of domestic/gun violence and drug use (albeit not in any way graphically described) when deciding if those readers on the younger side of the MG age bracket are ready to be exposed to those themes. To me, it feels like an age 10+ read.
________________________________________
Ghost:

Author: Jason Reynolds
Cover Art: Selom Sunu
Publisher: Knights Of
ISBN: 9781999642525
Paperback: 208 pages