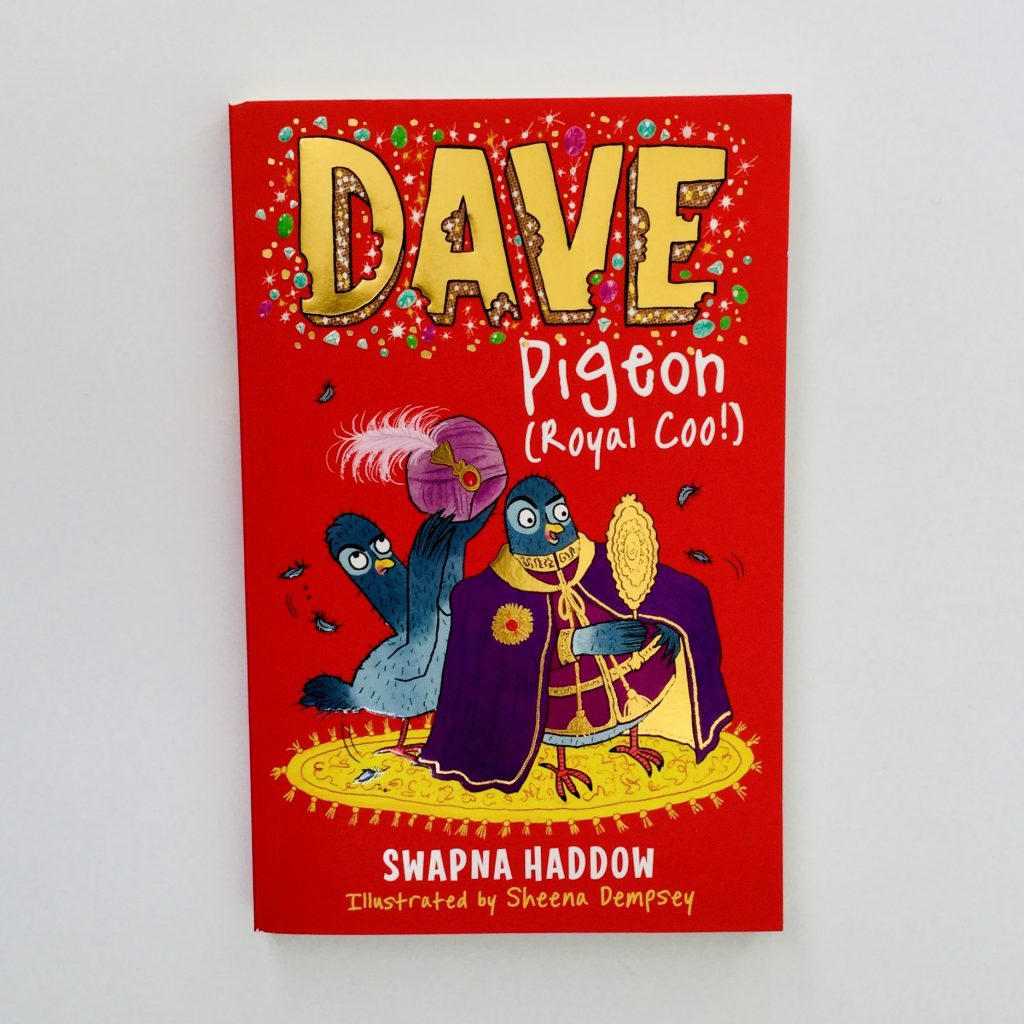 We are HUGE Dave Pigeon fans in our house and so World Book Day came around with much excitement. Not because the children could go to school in fancy dress (albeit my daughter did indeed go as DP himself!), but because it meant that the fourth book in the Dave Pigeon series – Royal Coo! – was released into the wild.
Dave had a strange look on his face. The sort of look he had when he was about to suggest a plan. A particularly catbrained scheme that would land us in a mess messier than a pigeon-poo-covered statue.
To be honest, I didn't think that the series could get any better, but Swapna Haddow and Sheena Dempsey have utterly excelled themselves. In Royal Coo, Dave and his trusty side-kick, Skipper, visit Buckingham Palace as they hear that there's a surplus of delectable goodies to be found in the royal bins post a luxurious banquet. Once there, they meet none other than the Royal Pigeon himself, Prince Raju, who is Dave's doppelganger. Dave hatches a cunning, pigeontastic 'Prince and the Pauper' plan, to which Prince Raju eagerly agrees; however, very quickly after donning the royal robes, Dave finds that the life of luxury is not quite what it seems…
Think of the stinkiest cheese in the world, shove a fart in it and cover it with cheesy puffs and that's still not as bad as Dave's feet.
Crikey, this is not just funny, it's laugh until you cry funny, but never at the expense of the plot, which is fresh, entertaining, and full of content. The humour isn't just confined to the storyline, either – there's play-on-words chapter titles, witty 'speech bubble' banter, and an entire chapter of 'yes, he is' 'no, he isn't' – even the opening credits make you giggle. It effectively has humour radiating out of the entire book. We must also give a massive shout-out to Sheena Dempsey for her brilliant illustrations as they play such a huge part in bringing the story to life. I asked my daughter what she liked most about them, to which she answered 'they're just so funny and pigeony, Mummy, I love them'. And so do I, apart from the page surrounded by pigeon mites, which made me want to scratch to high heaven!

Forget the kids, I love this book – and indeed the whole series: the stories simply brighten our day every time we read them. They are tailor-made for sharing (let's face it, who doesn't love to hear the sound of children laughing their heads off?) and are perfect for encouraging children to read for pleasure. I would love to see them on 'free reader' shelves in every classroom. My daughter has read and enjoyed books right across the children's literature spectrum, from comics to classics, but Dave Pigeon is the only series that she has taken a real interest in – and now won't read anything else until she has finished all four books by herself. Both she and I truly hope that book No 5 is in the pipeline. In fact, Swapna/Sheena, if you ever read this, could the next story include Skipper's granny? Surely any pigeon that can nearly blow off a tree branch in the Pigeon Farting Championships deserves to have their story told…
_________________________________________
Dave Pigeon (Royal Coo!)

Author: Swapna Haddow
Illustrator: Sheena Dempsey
Publisher: Faber and Faber
ISBN: 978571336982
Paperback: 160 pages