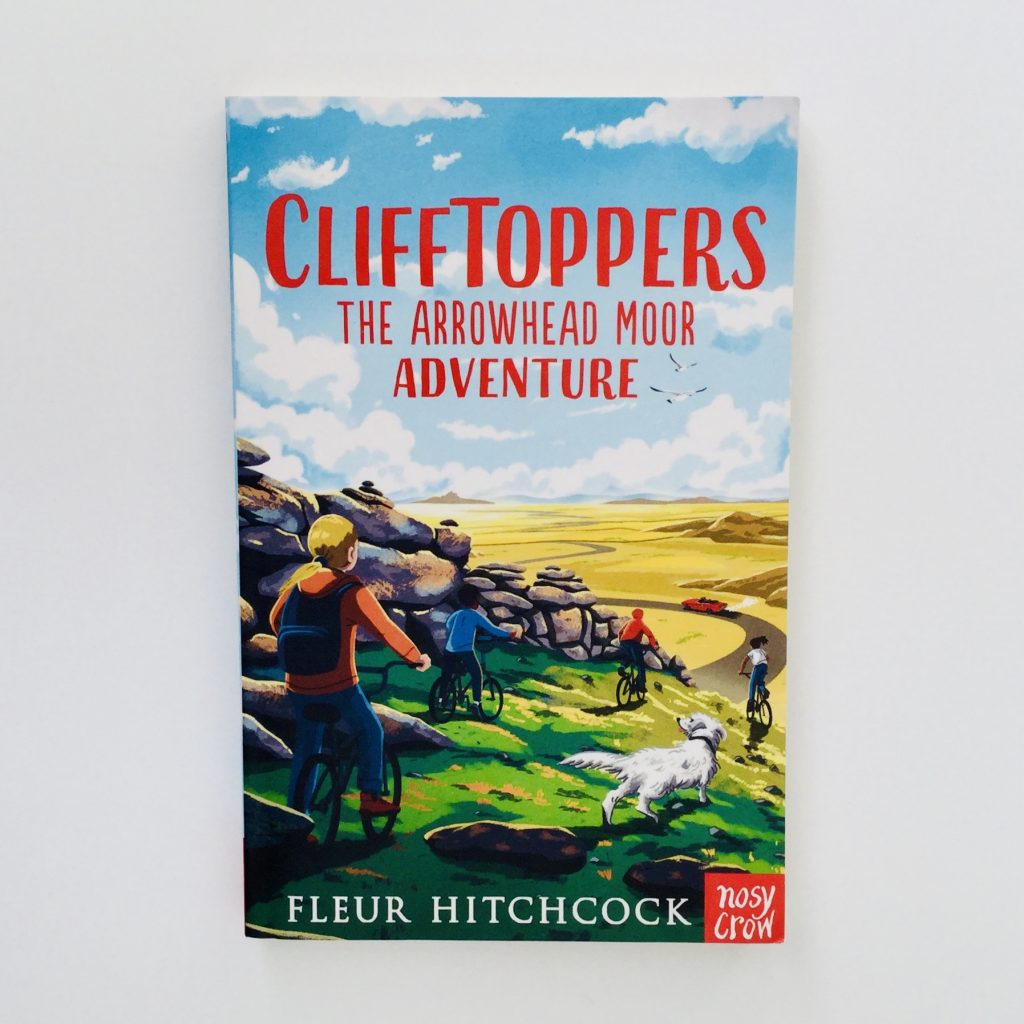 This is a very quick review as I'm a tad short on time at the moment; however, I wanted to make sure that I recorded my thoughts on this new book by Fleur Hitchcock, an established and accomplished writer whom some of you will know due to her dark thrillers for older children. Clifftoppers: The Arrowhead Moor Adventure is very different, though. It's the first book in a new junior fiction adventure series (6/7+), so perfect for children who want a 'wordier' story than usually found in illustrated fiction, but who are not yet ready for lengthier, middle-grade books.
Aiden, Chloe, Ava and Josh are cousins and spend the holidays at their grandparent's cottage close to the sea. Given lots of freedom and no curfew, the children spend most of their time outdoors on their bikes. As you might imagine, therefore, the possibilities for adventure are endless! One day they take part in a treasure hunt at a local stately home and stumble across a jewel heist. The plucky children decide that they need to take on the gang head-to-head, and so armed with nothing more than their wits, bikes and their trusty side-kick Bella the dog, they begin to hatch a cunning plan to chase and ultimately snare the villains.
Clifftoppers is very much a Blytonesque adventure for the current generation. There's inclusive characterisation, modern speech (a few too many 'oh my god's for me, but I accept that I'm very much in the minority on that front!) and a pacy storyline. More 'street smarts' and less 'lashings of ginger beer'. I like the fact that the book bridges the gap between illustrated and middle grade fiction as it's meaty enough for younger children to enjoy, but wholesome enough for adults to feel comfortable handing over without having to check for suitability first.
The story is 163 pages long, broken down into 27 short chapters, which works very well for those who are still building their reading stamina. The next in the series – The Fire Bay Adventure – is out later in the year and I'm really looking forward to finding out what the children get up to next.
________________________________________

Clifftoppers: The Arrowhead Moor Adventure:
Author: Fleur Hitchcock
Cover Art: Tom Clohosy Cole
Publisher: Nosy Crow
ISBN: 9781788004695