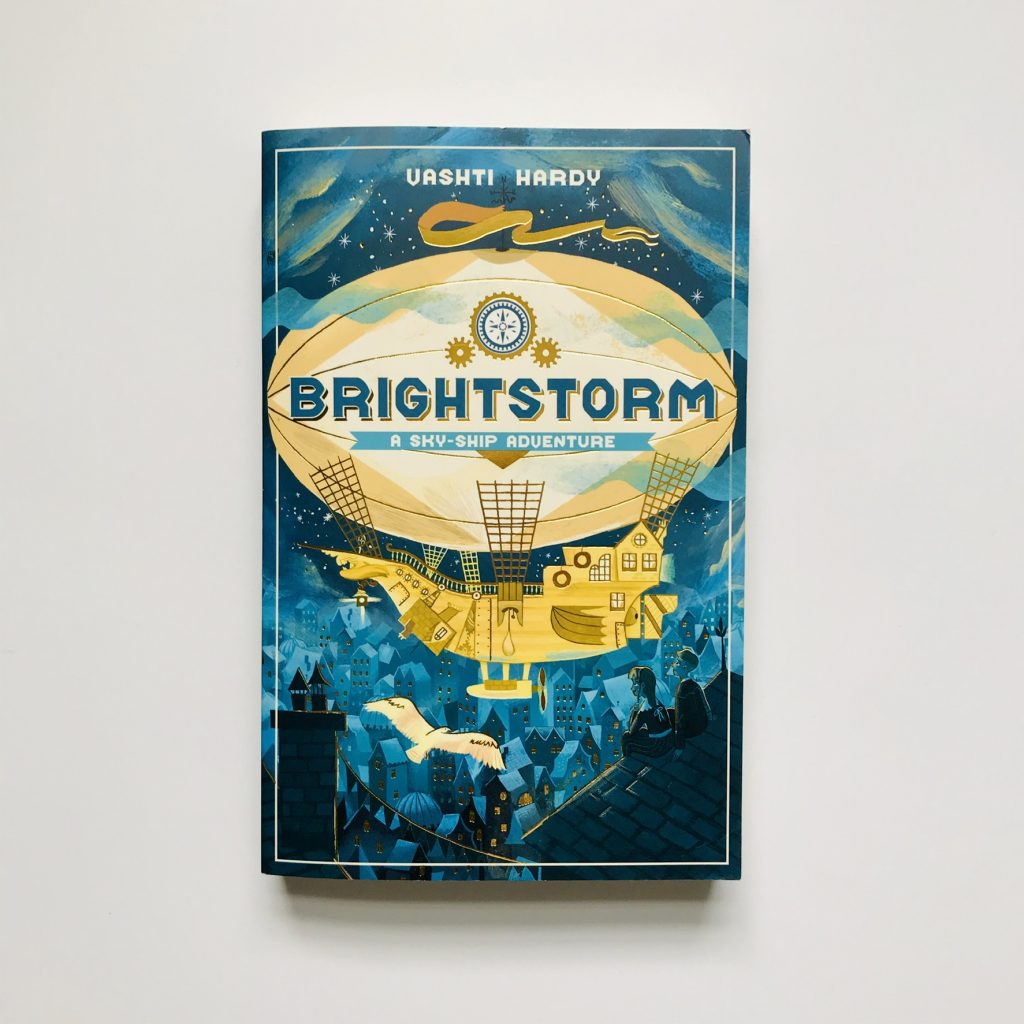 'Fear kills more dreams than failure ever will.  You can be comfortable or courageous – never both at once'
Brightstorm is Vashti Hardy's debut children's novel, which was released in March this year in a blaze of critical acclaim.  It was no surprise, therefore, that the members of #PrimarySchoolBookClub voted to make it April's read of the month.  Unfortunately, life got in the way for me, so I am only now catching up with the story.
Before I delve in, it's worth mentioning the book's superb cover illustration, which has been created by George Ermos.  It's one of those beautifully detailed covers, that I didn't really appreciate properly until I took the time to look at it closely.  The cover also has an inside flap containing a map that spans the book's geographical setting, which I found really useful for tracking the storyline as it progressed.
So, on to the story…  The Brightstorm twins, Arthur and Maddie, were born into an exploring family, one of many living in the mythical First Continent of The Great Wide.  Already motherless, they sadly find out at the beginning of the story that not only has their Father died while on expedition to reach the South Polaris, he has also been accused of breaking the Explorer's Code.  As a result, the children find themselves almost destitute, sold to a mean, dispicable couple who use them for financial gain.  The twins discover a mysterious clue, though, and it becomes clear that all is not what it seems.  By the skin of their teeth, therefore, they manage to join an sky-ship exploration crew and undertake a journey of a lifetime to try and discover the truth.
I've read quite a few adventure stories recently, but this fabulous, action-packed tale definitely comes out on top.  It has the feel of a traditional tale of 'derring do' with lots of good versus evil –  bandits, crooked explorers, kings, and my personal favourite, thought wolves – who are all trying to help or deter the twins in their quest.  It is not traditional, however, in its characterisation.  Super-bright female captains and engineers, a young boy who doesn't allow his disability to define his life, and an older man who has amazing self-defence skills which belie his years, add a refreshing, modern edge to the tale.  We also see themes of bravery, friendship and personal growth  – oh, and I love the fact that the twins have a real love of books and thirst for knowledge.  While it is a race-against-time adventure, it's not so pacey as to spoil the enjoyment of the book, so readers are able to savour the ever-changing landscape and the richly descriptive text.
This imaginative, steam-punk adventure is 343 pages long and aimed at the 'middle grade' age bracket (8 – 12), but to be honest, adults will enjoy it just as much.  While I don't want to give too much away, the ending of the book suggests that Brightstorm might be the start of series, and I for one can't wait to read the next installment.
---
Brightstorm
Author: Vashti Hardy
Publisher: Scholastic
ISBN: 9781407181707