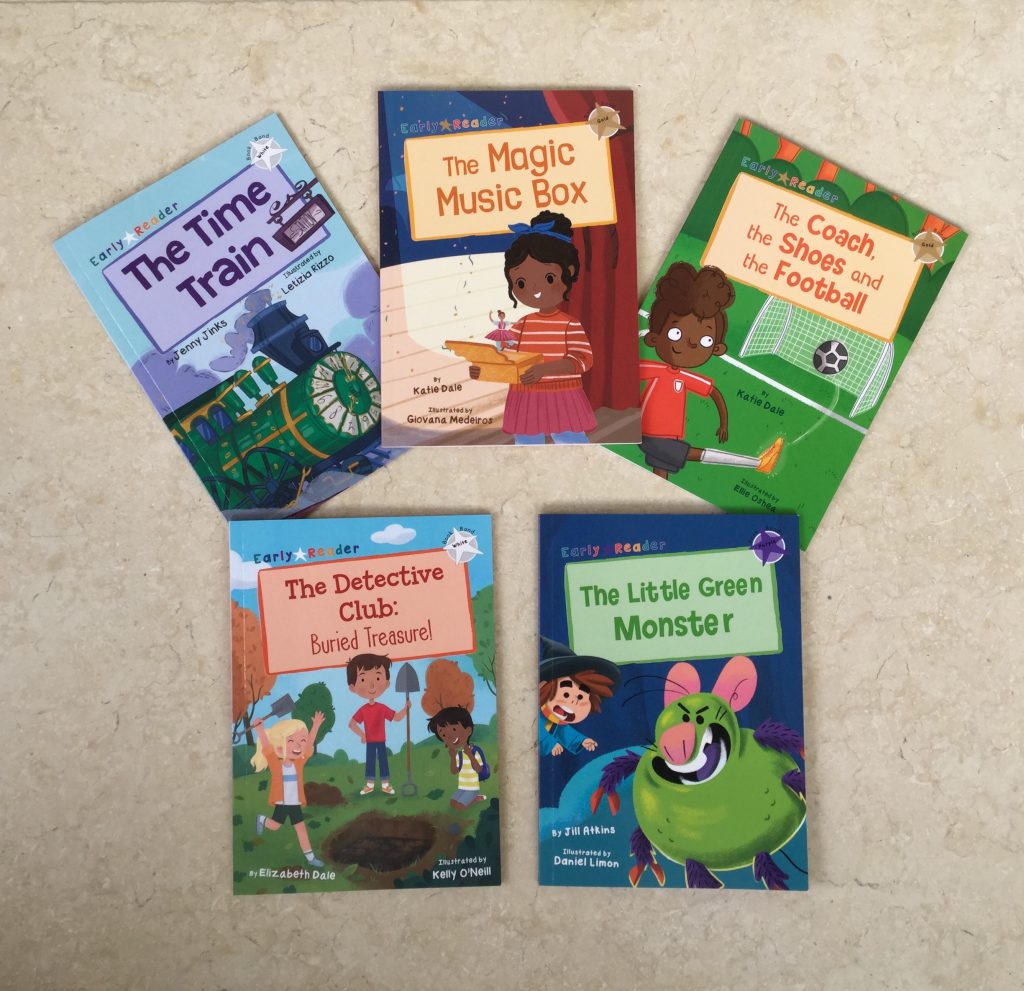 Regular visitors to the blog will know that I am a huge fan of Maverick's Early Reader books. They are everything book-banded reading schemes should be (but are so often not…): full of entertaining, boldly-illustrated and inclusive stories, which not only help children to learn to read, but more importantly encourage reading for pleasure right from the outset. I was delighted, therefore, to receive some of the latest Early Reader releases from the lovely people at Maverick, albeit not as excited as my son, who literally whooped for joy when he opened the parcel and dived straight in…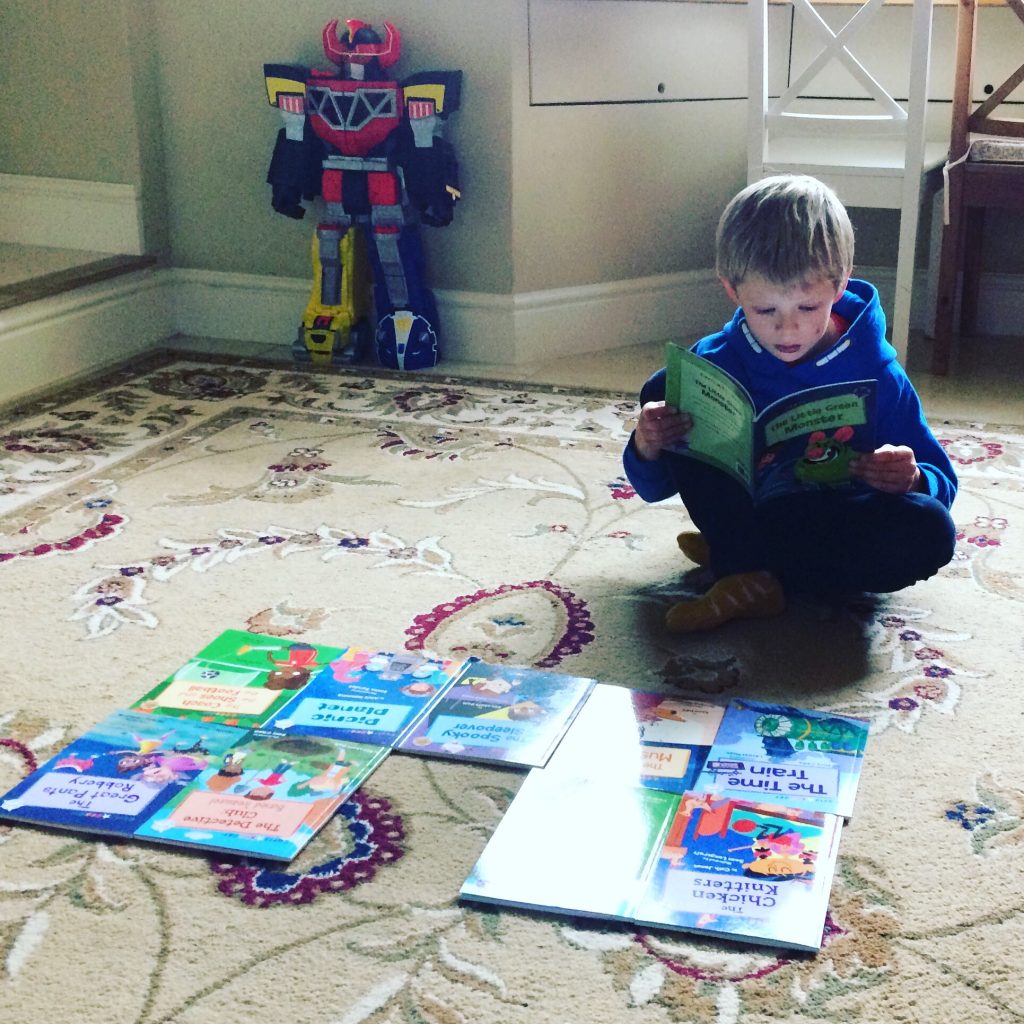 The Little Green Monster by Jill Atkins and illustrated by Daniel Limon – Purple Band. Cosmo has been training hard to be a wizard and the day of his big test has finally come around. He aces the first 2 tests, but the last one goes horribly wrong…
This is a brilliantly entertaining and funny story, with the underlying message that while it's good to try hard and do your best, it's also OK to make mistakes. Aside from really enjoying the story, my son also loved the bold and expressive illustrations. He is now one of Daniel Limon's biggest fans after Daniel very kindly enhanced the photo of Hugo reading by adding a very special little creature! Hugo is now convinced that it is hiding somewhere in our house…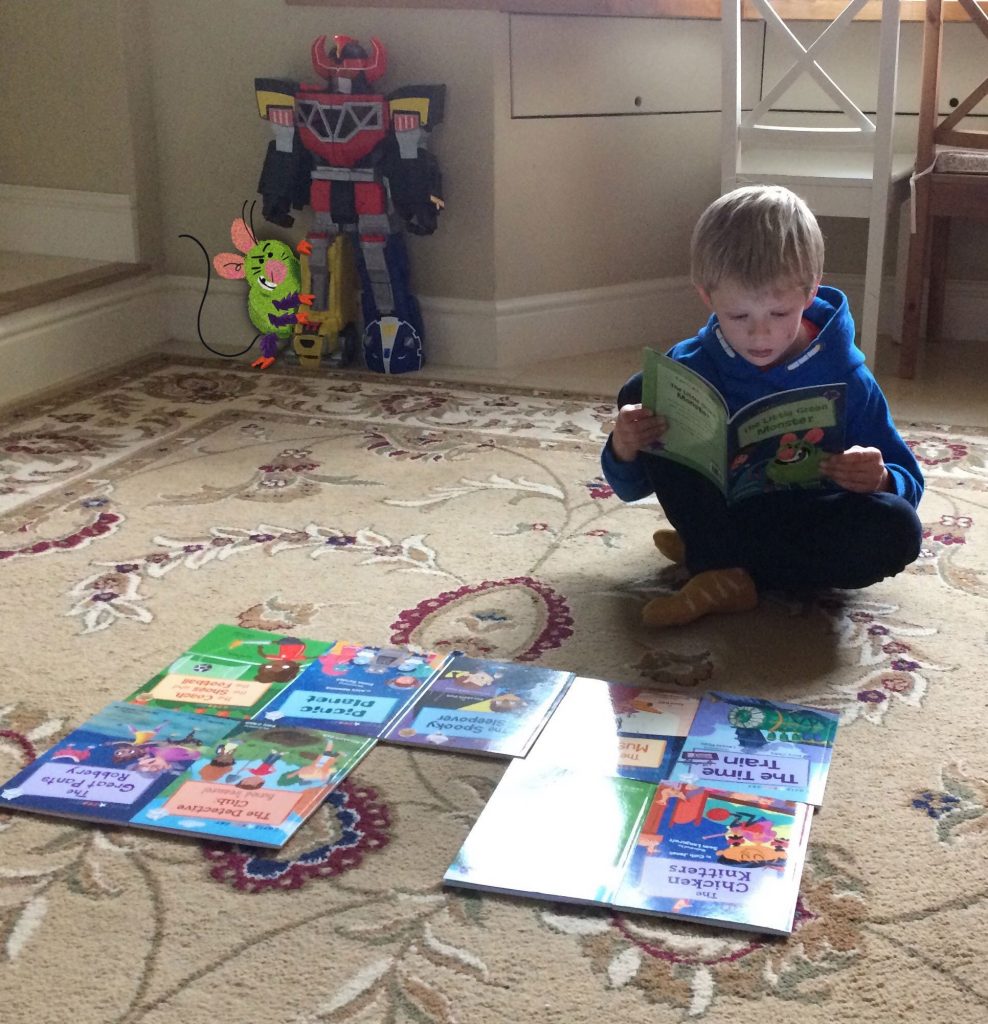 The Magic Music Box by Katie Dale and illustrated by Giovana Medeiros: Gold Band. Bella dreams of being a ballerina; she is desperate to join a newly-opened Ballet School but, unfortunately, it's too expensive. Her fortunes begin to change, though, when she is given a mysterious box…
With inclusive characterisation and a touch of magic and sparkle, this engaging story encourages children to persevere, follow their dreams and pay kindness forward. My daughter squirrelled this book away shortly after it arrived and it has remained in her room ever since. As she has been a 'free reader' for over a year now, it shows that these stories appeal to more confident readers too, not just to those on book-banded schemes.
The Coach, the Shoes and the Football by Katie Dale and illustrated by Ellie Oshea: Gold Band. Football-mad Raj lives with his evil stepdad and stepbrothers, who make him do all the chores. There's a chance for him to win a place on a football summer camp, but will he be allowed to go?
Hugo is massively into football at the moment and so he was really excited to read a book about his favourite sport. The story is a clever, modern take on the Cinderella fairy tale, which will appeal to boys and girls alike. It also has a subtle, underlying message that it's important to tell an adult you trust if you are not being treated kindly. Thank goodness for hairy godfathers!
The Time Train by Jenny Jinks and illustrated by Letizia Rizzo: White Band. Astrid has won a ticket for the Time Train but the funny thing is, she doesn't remember entering any sort of competition. But this is no ordinary train…
We all loved this pacey, time-travelling adventure, with trips to the Stone Age, Ancient Egypt and the Future. It's an exciting, action-packed story: both children loved spotting the 'changes' made to history and we had fun following the antics of Letizia Rizzo's stowaway caveman! Ride on a woolly mammoth anyone?
The Detective Club: Buried Treasure! by Elizabeth Dale and illustrated by Kelly O'Neill: White Band. Leo, Fiz and Raj, who make up the Detective Club, love solving mysteries and catching baddies. When an ancient chest is stolen, will they be able to follow the clues to catch the culprit?
This is an entertaining and satisfying adventure story, with echoes of The Secret Seven. We enjoyed trying to figure out who perpetrated the crime, and the children were very excited to eventually find out that it was a dastardly grown-up! It did make me smile when Hugo said, with a shake of his head, "Crime never pays, Mummy…"
Aside from the mental stimulation these books offer, I love the fact that Maverick has excelled in making these Early Readers visually appealing by engaging super illustrators and focusing on bold and eye-catching graphics, which really help bring the stories to life. While as adults we are told never to judge a book by its cover, there is no doubt that cover art and illustrations play a massive part in attracting children to books. Indeed, it's what initially drew my son to these books in particular.
In sum – and while you may have already got the gist! – if you are looking for book-banded stories for your children, then I can't recommend these Early Readers highly enough. Written in natural English and broken into manageable chapters, there's lots of speech and onomatopoeia to help develop expression, and the large number of books in the scheme (around 100 now, I think) means that you'll always be able to find the perfect story at the right level. I have 5 more books to review, which I'll do in a follow-on post so as to keep the blogs to a reasonable length, but in the meantime, watch out for little green monsters invading your homes…
PS – you can find our other reviews on books in the Maverick Early Reader range by clicking our Early Reader/Book-banded Schemes category, or by accessing the links below:
November 18: http://www.merrybookworm.co.uk/early-readers-book-banded-schemes/maverick-early-readers-banded-readers/
February 19: http://www.merrybookworm.co.uk/early-readers-book-banded-schemes/new-maverick-early-readers-released/

________________________________________
The Little Green Monster: ISBN 9781848864313
The Magic Music Box: ISBN 9781848864177
The Coach, the Shoes and the Football: ISBN 9781848864191
The Time Train: ISBN 9781848864344
The Detective Club: Buried Treasure!: ISBN 9781848864351