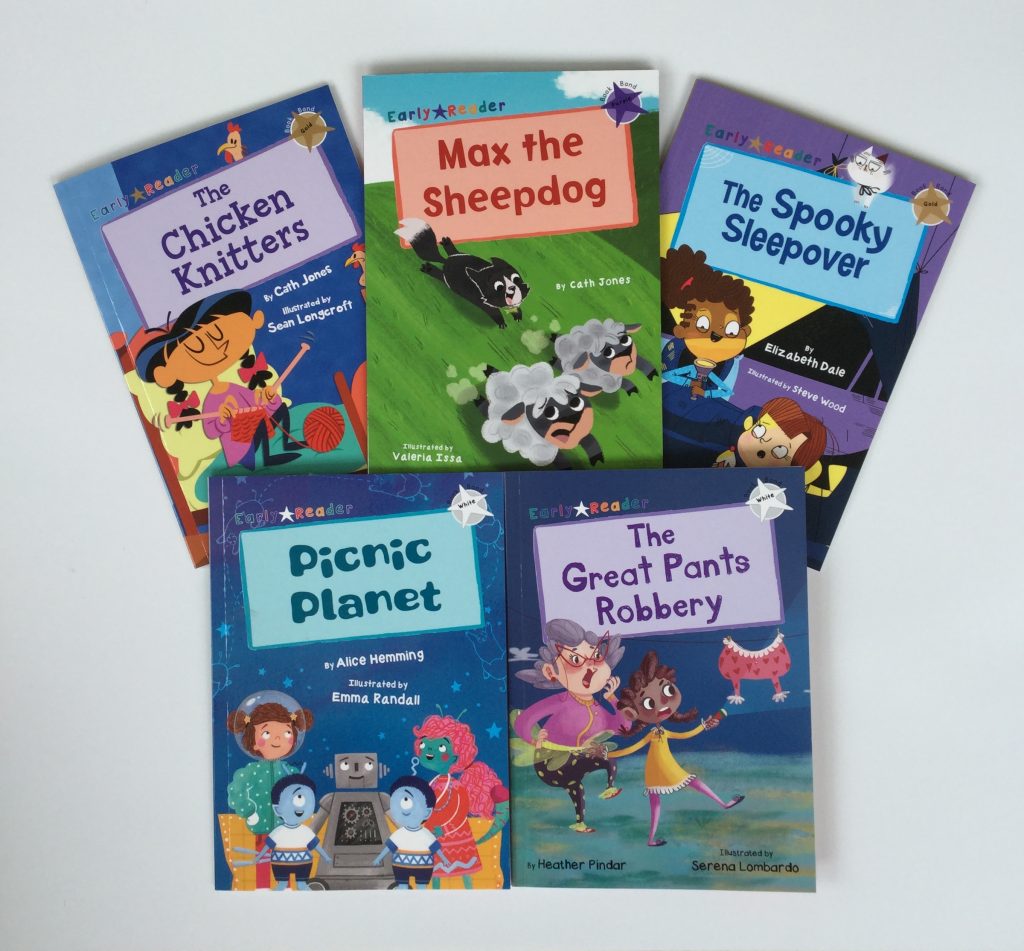 As promised, here's the second half of our Maverick Early Readers review. If you want to find out more about Maverick's fantastic Early Reader book-banded scheme, please check out our blog from earlier this week. If, however, you want to jump straight in and check out more new Early Readers, then scroll this way!
Max the Sheepdog by Cath Jones and Illustrated by Valeria Issa: Purple Band. Max really wants to impress his mum by being a good sheepdog, but it's a lot tougher than it looks! The animals run away from him in all directions. Will he ever improve and become a talented sheepdog like his mum?
This is a lovely story about a young dog trying to find his way in life. Its underlying message is that everyone is good at something, even if it takes them a while to work out what it is. Hugo really liked Valeria Issa's bold and distinctive illustrations, particularly the sheep who rudely pulls its tongue out!
The Chicken Knitters by Cath Jones and Illustrated by Sean Longcroft: Gold Band. Lilly loves to knit. When she discovers Farmer Claw's poor chickens all cooped up and cold, she realises that she has some work on her hands. Can she free the chickens and stop the farmer with her knitting skills?
This is a cleverly-written book which wraps humour around the issue of animal welfare, resulting in a funny, warm-hearted story that everyone will enjoy. We loved Sean Longcroft's quirky illustrations, particularly the chickens wearing their funky knits! As soon as Hugo saw the cover of this book, he immediately pointed out that the pictures reminded him of another Maverick book he really enjoyed – Nanny Ninja – which was also illustrated by Sean. It shows just how much notice children take of book illustrations!
The Spooky Sleepover by Elizabeth Dale and Illustrated by Steve Wood: Gold Band. Summer is hosting a sleepover round her new house. But when scary noises keep them awake at night, can the girls solve the mystery or will things get too spooky?
We enjoyed this nocturnal adventure story, which encouraged Hugo to race to the end as he was most intrigued to find out whether or not the ghost was real! A fun and entertaining read, with brilliant, expressive illustrations by Steve Wood.
The Great Pants Robbery by Heather Pindar and Illustrated by Serena Lombardo: White Band. It was a normal Saturday in Little Snorington until pants started to go missing. Can Julia and her Grandma Lil find out who's stealing all the pants and catch the thief?
Hugo was very taken by this book – he is of that age where the word 'pants' in the title makes a story immediately appealing! He loved the initial mystery, and the 'courtroom drama' generated lots of discussion about the role of judges. We also loved Serena Lombardo's colourful, inclusive illustrations.
Picnic Planet by Alice Hemming and Illustrated by Emma Randall: White Band. Spacey Stacey and her friends decide to visit Picnic Planet for the day, but the pesky space bunnies steal their picnic before they can tuck in!
This is a wacky space adventure – starmite sandwich anyone? – which highlights to children the consequences of not following instructions. There's also a subtle touch of 'do unto others…'. Emma Randall's detailed pencil illustrations complement the story beautifully.
That brings us to the end to our review of Maverick's spring releases. As I say pretty much every time I review these Early Readers, this is the best book-banded series I have come across and I can't recommend the stories highly enough. They have simply worked wonders for my son's reading confidence, ability and enjoyment. Maverick is intending to supplement the scheme with non-fiction very shortly, too, which I think will be a real game-changer as not all children are motivated by fiction alone, Hugo being a case in point.
Finally, if you want to find out more about the other books in the range, access the links below to read our other reviews:

November 18: http://www.merrybookworm.co.uk/early-readers-book-banded-schemes/maverick-early-readers-banded-readers/
February 19: http://www.merrybookworm.co.uk/early-readers-book-banded-schemes/new-maverick-early-readers-released/
May 19: http://www.merrybookworm.co.uk/early-readers-book-banded-chemes/new-maverick-early-readers/
_______________________________________

Max the Sheepdog: ISBN 9781848864320
The Chicken Knitters: ISBN: 9781848864337
The Great Pants Robbery: ISBN: 9781848864368
The Spooky Sleepover: ISBN: 9781848864184
Picnic Planet: ISBN: 9781848864207

With thanks to Maverick Books for gifting us copies of these books.