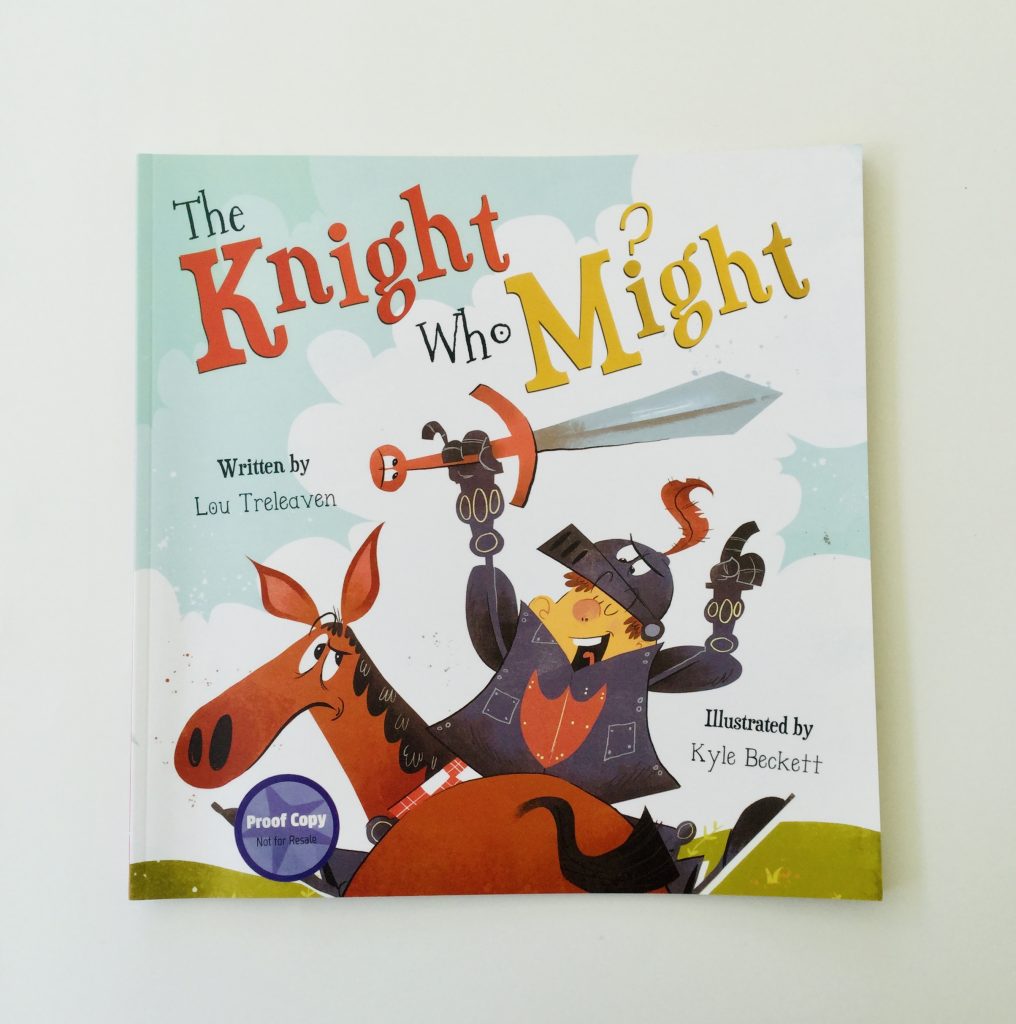 We've enjoyed a number of Lou Treleaven's stories over the years, and so when the lovely Katie at Maverick asked us if we would like a sneak peak at Lou's new picture book, which is brilliantly illustrated by Kyle Beckett, we jumped at the chance!

The Knight who Might features a knight who tries so hard to be everything that's expected of him: a talented horseman, a deft swordsman and a fearsome, armour-wearing battler. Unfortunately, though, he just doesn't seem to have what it takes. What he DOES have, in abundance, is enthusiasm, determination and what we used to call in the military: PMA (positive mental attitude) and so when he sees the calling notice for a Knight Tournament, he is absolutely up for it! His (magic) horse, sword and helmet are not so optimistic, though, and think he's on a fool's errand. Initially, they hide from him so that he can't take part, but as he decides to go it alone, they swiftly follow on, knowing that he really needs their help. As they arrive at the competition, the knight unusually has a fit of the collywobbles, but his trusty magic friends give him a motivating pep talk, and off he charges towards the Lord With the Scary Looking Sword…

The kids and I love this book for many reasons: it's funny, entertaining, the illustrations are fresh and hilariously engaging (you need to get this book for the horse's expressions alone!) and it's a fab introduction to positivity for young readers. What I like most about it as a parent, though, is that the knight doesn't win the competition: optimism and positive vibes alone can only take you so far and it's good to sow that seed early on! However, the knight is awarded a special prize for giving his all in the face of inevitable defeat, and so children can see that success is not just about winning: you can still achieve great personal pride from taking part, persevering and trying hard.
The Knight who Might is published on 28 August, and it's available for pre-order now from most booksellers. I've included some links here to help:

HIVE (which supports Indie booksellers and also has the cheapest pre-order price!): https://www.hive.co.uk/Product/Lou-Treleaven/The-Knight-Who-Might/24940932
Waterstones: https://www.waterstones.com/book/the-knight-who-might/lou-treleaven/kyle-beckett/9781848864832
Amazon: https://www.amazon.co.uk/Knight-Who-Might-Lou-Treleaven/dp/1848864833/ref=sr_1_1?dchild=1&keywords=the+knight+who+might&qid=1594558541&sr=8-1

The Knight Who Might
Author: Lou Treleaven
Illustrator: Kyle Beckett
Publisher: Maverick Arts Publishing
ISBN: 781848864832
Paperback: 32 pages