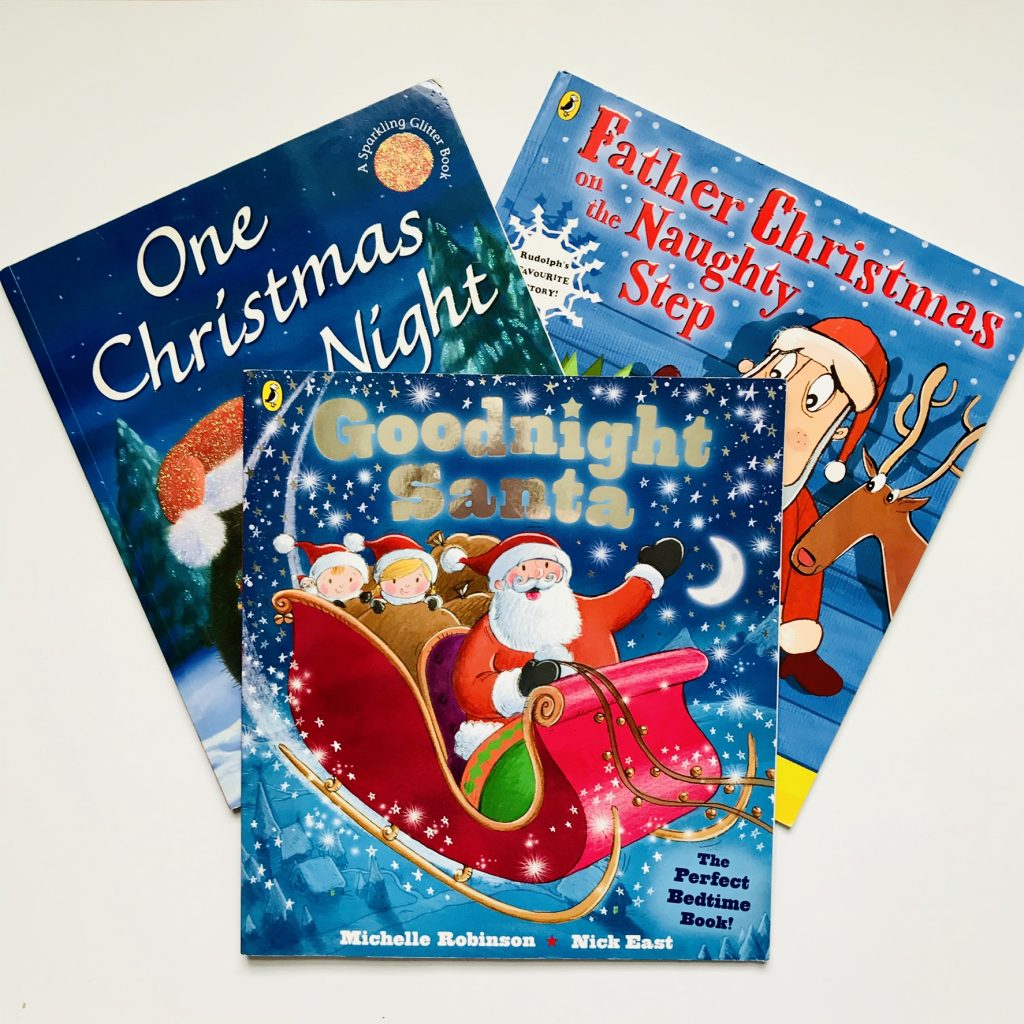 To my mind, there is something very special about festive reads – while the children clearly don't need any help to get excited, I find that snuggling down with the kids to share a Christmas story actually helps me to be a little less scrooge-like!  While most book blogs tend to focus on new festive releases, I wanted to share with you some of our old favourites, which my children ask for every year…
---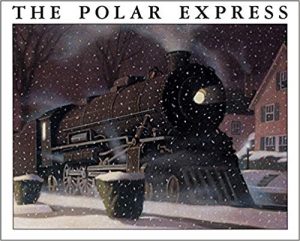 When you mention The Polar Express to people, most of them immediately think of the Tom Hanks' film, rather than the superb story written and illustrated by Chris Van Allsburg.  I don't have anything against the film, in fact I think it's brilliant and it's on our family festive watch-list, but I must confess that I far prefer the picture book.  A traditional and magical Christmas tale, it's short enough for one sitting, and has beautiful double-spread colour illustrations.  While there are lots of copies on the market, our particular version was published in 2017 by Anderson with the added bonus of a CD containing the dulcet tones of Liam Neeson.  What I like most about this is that the CD covers the story twice over.  The first is a straight run through of the story; the second has a bell ringing when it's time to turn the page, so children who are unable to follow the text can enjoy the superb illustrations in context, which I think is a brilliantly inclusive idea.  If this isn't in your Christmas reading selection then it's well worth buying – perfect for both the believers, and 'almost' believers in your life!
---
From one Christmas classic to another… We have read The Night Before Christmas as a family, every Christmas, since my eldest was born – it is definitely a Merry Bookworm family tradition.  It's such a beautiful, festive poem, and it truly captures the anticipation and excitement of Christmas Eve.  I didn't actually know until recently that there was some controversy about the author.  The poem first appeared anonymously in a New York newspaper in 1823 under the title Account of a Visit From St Nicholas.  Several years later, Clement Clarke Moore said that he had written it, but apparently others believe that it was written by another New Yorker – Henry Livingston Jr.  We have 2 versions of the book: an Usborne paperback with contemporary illustrations by John Joven, and a more classic, hardback version, illustrated by the fabulous Robert Ingpen, which would make a super family gift.  The children love the former, the adults the latter!
---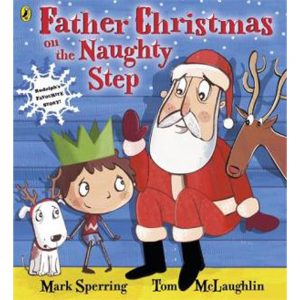 Bringing the stories a little more up to date, my daughter in particular loves this story about Father Christmas on the Naughty Step – probably because this is a place that she has sat on a fairly regular basis!  Poor Sam is on the Naughty Step on Christmas Eve; while he wasn't too surprised to meet his friend Captain Buckleboots there, he most definitely didn't expect to find Santa!  Blistering Baubles, who would have thought that Santa could possibly be at the top of the Naughty List?!  A hilarious story, with fabulously bright, colourful illustrations, which highlights the benefits of both forgiveness and apologising for bad behaviour.  Definitely a must for any children (and adults!) who haven't yet made the 'good list'…
---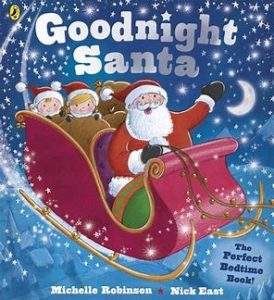 Goodnight Santa is the perfect festive book to help very young children settle on Christmas Eve (and any other night, quite frankly).  With eye-catching, colourful illustrations and minimal text on each page, this lyrical, calming story with repetitive text is as lovely for an adult to read as it is for a child to listen to.  It has a soft spot in my heart, as my son loved this book so much, that not only could he recite the all the words to me, he used to sleep with it in his bed as well.  In fact even though he's now 5,  as soon as he saw this book on my desk in preparation for writing this blog, he pilfered it and disappeared off to our reading corner to have a read through!
---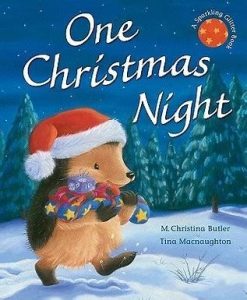 Finally, One Christmas Night, written by M Christina Butler, is another gentle, sweet story that we still enjoy today.  Hedgehog's home isn't very festive and he's forgotten to buy presents for his friends, but with some help he manages to get sorted just in time for Christmas.  This is a heart-warming story about friendship and thoughtfulness and is beautifully illustrated with character and charm by Tina Macnaughton, who has added lovely glittery accents on the pages.  I actually quite like the fact that Santa doesn't appear as it really helps to press home the message that friends, rather than gifts, make Christmas special.  If the characters and style seem familiar to you, then it's likely that you have seen other stories in the same series: One Snowy Night, One Winter's Day, One Rainy Day and One Special Day.
---
So there you have it – the Merry Bookworm Christmas picture book favourites.  If you have any family favourites that you'd like to share, please drop us a quick line.  We would love to hear from you…
---
The Polar Express:
Author & Illustrator: Chris Van Allberg
Publisher: Anderson Press
ISBN: 9781783446407
Hardback: 32 pages
'Twas The Night Before Christmas:
Illustrator: John Joven
Publisher: Usborne
ISBN: 9781474906432
Paperback: 24 pages
The Night Before Christmas:
Author: Clement C Moore
Illustrator: Robert Ingpen
Publisher: Palazzo Editions Limited
ISBN: 9780956494290
Hardback: 52 pages
Father Christmas on the Naughty Step:
Author: Mark Sperring
Illustrator: Tom McLaughlin
Publisher: Puffin Books
ISBN: 9780141343068
Paperback: 32 pages
Goodnight Santa:
Author: Michelle Robinson
Illustrator: Nick East
Publisher: Puffin Books
ISBN:9780723293644
Paperback: 32 pages
One Christmas Night:
Author: M Christina Butler
Illustrator: Tina Macnaughton
Publisher: Little Tiger Press
ISBN: 9781848952423
Paperback: 26 pages