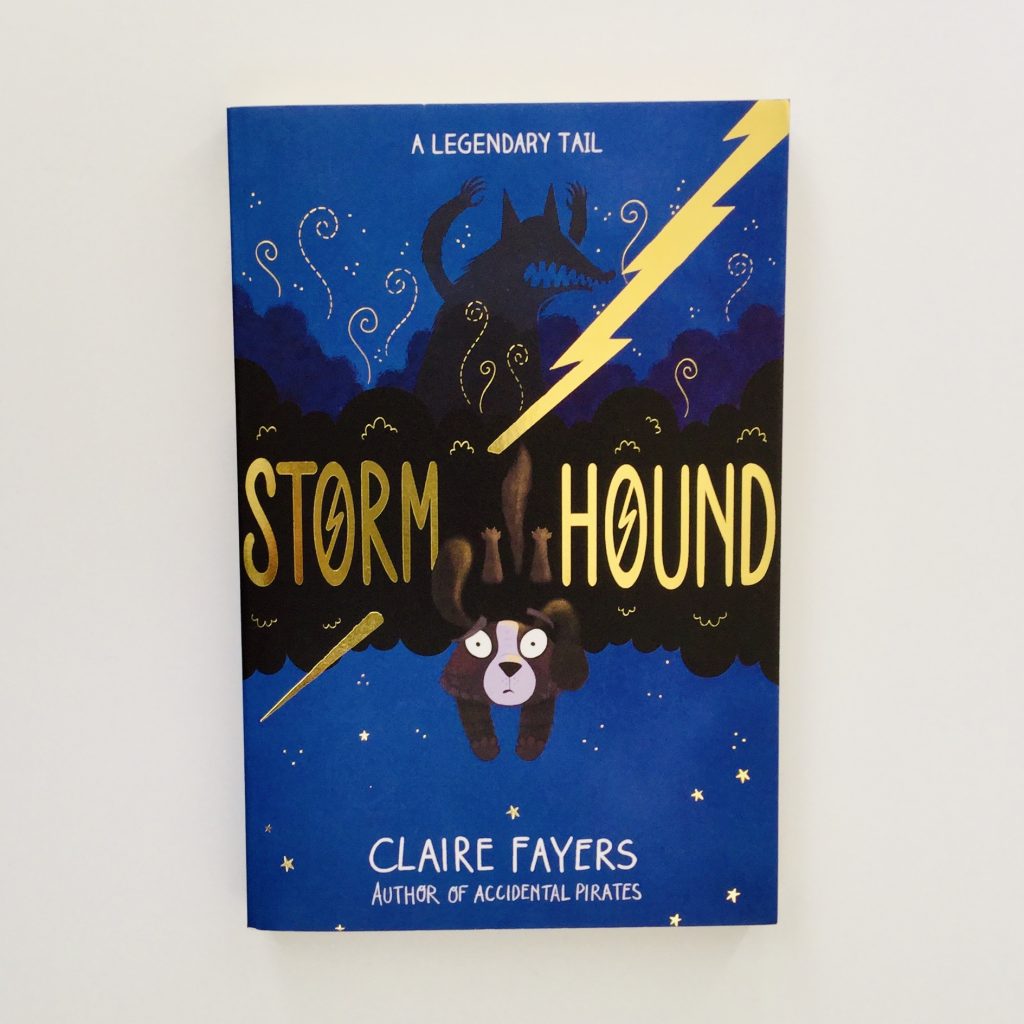 Myths, legends, stories. They are all words for facts that people have forgotten.
A stormhound from Odin's Wild Hunt falling out of the sky and landing in Abergavenny made me smile every time I heard about it. Despite my towering TBR pile, therefore, I picked this up as soon as it was released and it certainly hasn't disappointed.
If you would kindly release me and be on your way, I will consider asking Odin not to blast your home and family with thundery vengeance.
Storm of Odin is only 4 months old and is on his very first hunt across the plains of the stormy skies. Unfortunately he finds that he can't keep up and falls through the clouds, landing on the A40 in Wales. Not only that, he soon finds that he has turned from a huge, menacing hound to a small, cuddly puppy, which he is not at all impressed with. Transported to an animal rescue centre, he is quickly adopted by 12-year-old Jessica and taken to his new home, where he has to adapt to domesticity and the humiliation of obedience lessons (albeit he initially thinks that they are for the humans, not him!). It's not long, though, until people begin to hunt for him, and these people are not what they seem…
Don't feel baaaaaaad, one of them bleated to Storm. All's wool that ends wool.
We have enjoyed this engaging book hugely. It's a magical adventure where Norse mythology meets Welsh legend in a present-day setting. We loved Storm's arrogance and condescension throughout and howled (excuse the pun…) when he was faced with a cat who laughs in the face of dog. We particularly liked the characters of Jessica and David/Morfran. Jessica is having to cope with a great deal of upheaval in her life due to a family breakup and this provides an additional dynamic to the story. David/Morfran – the boy who isn't a boy (don't want to give too much away here!) – grows emotionally as the story unfolds as he starts to respond to the power of friendship. All in all, it's an entertaining read that has a dry, humorous thread woven throughout.
Storm Hound is aimed at readers aged 8 upwards; it's perfect for those who love adventures, myths and legends, and magical realism. It would also be great for sharing.
________________________________________

Storm Hound:
Author: Claire Fayers
Publisher: Pan Macmillan
ISBN: 978150985045
Paperback: 256 pages