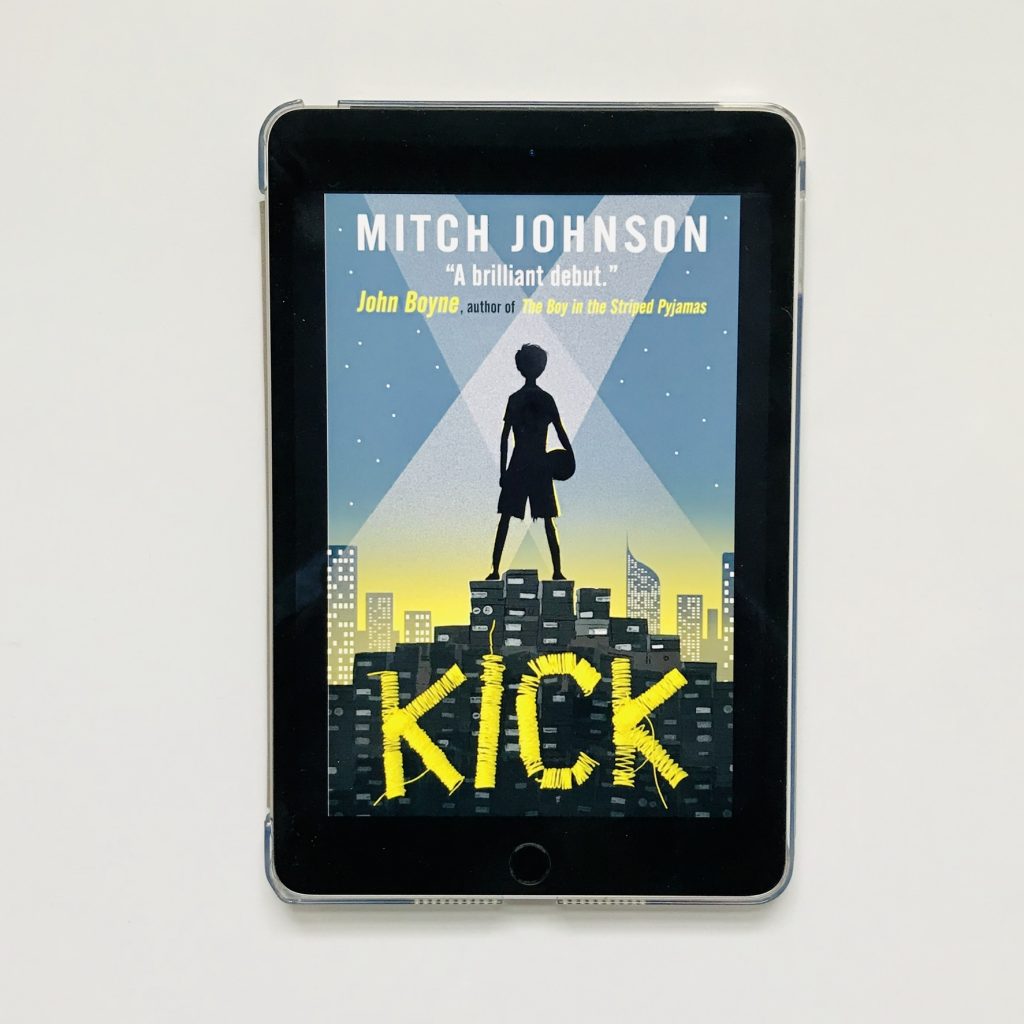 It's funny how you can just stumble across brilliant books.  I came across this entirely by accident as I was searching for a picture book endorsed by Amnesty International.  It popped up in my search engine results and the blurb looked interesting, so I decided to give it a read.  Probably the best decision I've made for a while…
'Budi, if you don't respect yourself, nobody will.  You must be proud of who you are'
Budi is an 11-year-old boy on a mission.  He spends his days in a sweatshop in Jakarta stitching and packing football boots, and his nights practising the beautiful game as he dreams of one day playing for Real Madrid.  One night, though, one unlucky kick puts him face to face with the Dragon, and suddenly his life is in danger…
'The Dragon is called the Dragon because if you cross him or betray him or bad-mouth him, he'll chew you up and spit out your bones.  And he won't bother burying what's left of you, either.'
Kick is not just a story about football, it's so much more than that.  It covers a number of relevant and hard-hitting human rights issues such as child labour, poverty, corruption and living in fear of violence; however, these themes have been deftly interwoven with uplifting messages about family, friendship and the pursual of dreams, which turns the story into an inspiring read.  I was rooting for Budi and his friend Rochy all the way through, even when times got extremely tough.  Their friendship is what makes the book for me; together through thick and thin, their selflessness is demonstrated through the not-so-insignificant sacrifices they make for each other.
All the characters are well-rounded and believable.  I particularly liked Grandma, imparting her pertinent wisdom through her legendary storytelling, and Budi's parents who support him in his quest for stardom knowing how important it is for Budi to have dreams, even though he's living in a world without them.  I also loved the descriptive nature of the story; at times I felt as though I was there in Jakarta sharing a bowl of rice with Budi and his family in a building about to fall down, surrounded by pollution and heat.  The family constantly demonstrate their love for each other in the face of adversity because that's effectively all they have left to give.  You can taste the fear, feel the desperation and sense the courage – you can truly believe that all it takes is a split second – one unlucky moment – to get sucked into the relentless corruption and the criminal underworld.
'Catholic is just a type of Christian – there's more than one type.  They all support the same god (who isn't Allah) but still don't agree.  It's like Manchester United and Manchester City.  They don't agree on anything other than being from Manchester'
Kick is recommended for children aged 11 and over*.   In my opinion, though, this is a book that we can all learn from – children and adults alike.  Sometimes we forget how fortunate we are to live in a free society and we seldom think of what it must be truly like for people to live a life where their basic human rights are constantly violated.  If the story spurs you on to make a stand for human rights, then Amnesty International explains at the end of the book how you can help.  Finally, after being born into a 'blue' family, I wholeheartedly stand by the final quote above in bold.  If my mother was writing this, she would stand up at this point and belt out a rendition of Blue Moon…
---
*I include recommended age ranges as a guide only.
Kick
Author: Mitch Johnson
Publisher: Usborne Publishing Ltd
ISBN: 9781474928151
Paperback: 304 pages