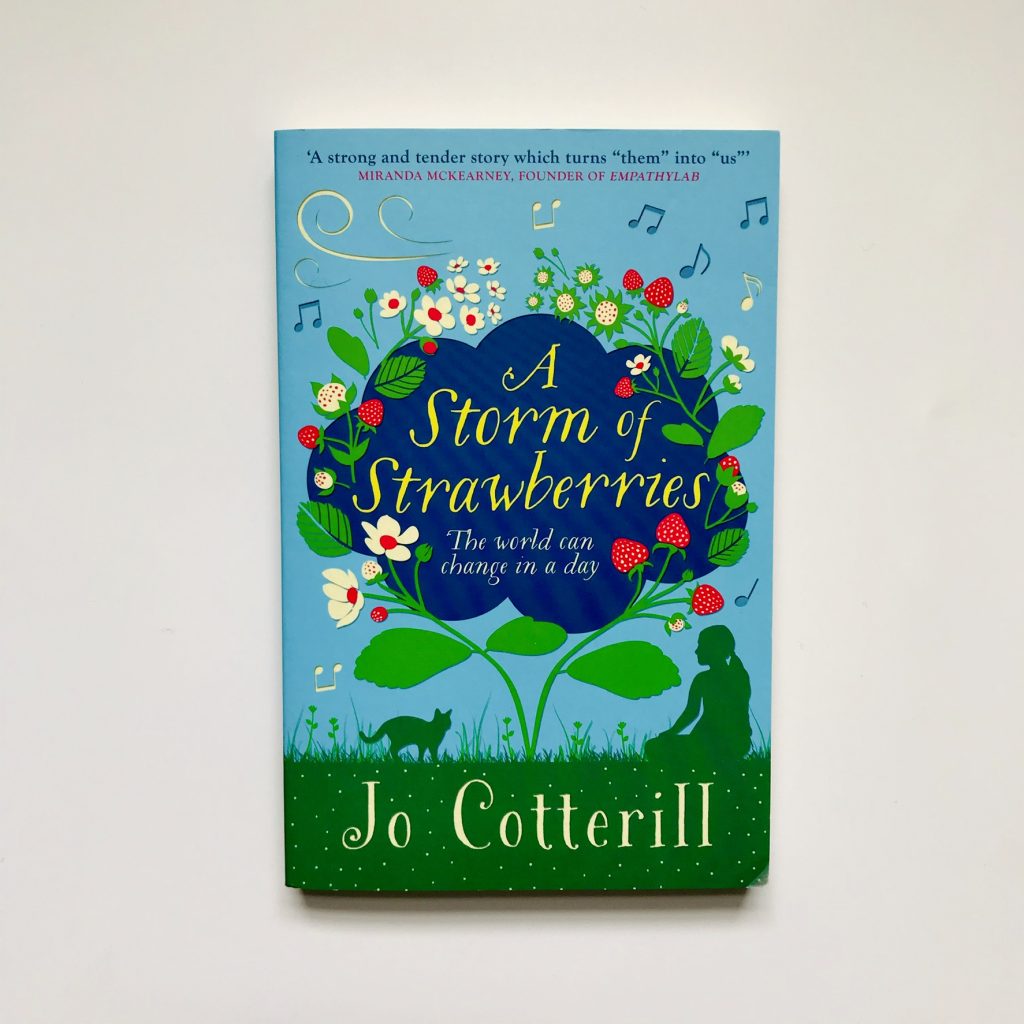 'My sister is beautiful… My sister has the kindest heart of anyone I know.  My sister is a better person than you will ever be.  Having Down's syndrome doesn't make her weird or ugly or thick.  It makes her extraordinary.'
If you haven't come across Jo Cotterill's books before then you are seriously missing out. An accomplished author with a significant number of published titles under her belt, she writes with empathy and confidence, tackling difficult issues with consummate ease.  One of these days I will blog about my favourite book of hers – A Library of Lemons – or even create an Author Spotlight blog covering a broader range of her work, but for now I want to draw attention to my latest Jo Cotterill read: A Storm of Strawberries.
The book was published back in 2017 and features Darby, a 12-year-old girl with Down's syndrome, who lives on a Strawberry Farm with her family: mum, dad, and her older siblings, Kaydee and Olly.  Her favourite things are music, chocolate and Kaydee.  The story starts as the weekend of the family's annual chocolate hunt approaches, which is Darby's highlight of the year.  However, there is a storm on the horizon, which always proves a stressful and worrying time for Darby's parents due to the risk of crop damage.  Furthermore, Kaydee has invited her friend, Lissa, to stay, whom Darby is nervous around as she thinks that Lissa she doesn't like her.  As the family struggles to cope with the weather situation and the resulting devastation, Darby stumbles across Kaydee and Lissa in an intimate embrace and while she promises to keep the secret to herself, she eventually lets it slip to both her brother and her parents, and thus another storm ensues…
What a beautiful, warm-hearted book this is.  Essentially it's a story of family, difference, acceptance and inclusion, and so it's no surprise that it's a UK nomination for IBBY's List of Outstanding Books for Young People with Disabilities for 2019.  The story is told in the first person and is filled with warmth, honesty and dignity.  All the characters come across as realistic and different in their own way, and the author shows us how people can react differently when under pressure, compared to how they might react normally, which I think is an important point to draw out for young people. It's obvious that a lot of time was spent researching Down's syndrome and as a result, Darby's voice sounds consistently authentic throughout.  What touched me most about the story, though, was how the author tackled the sexuality angle, not just in terms of how difficult it is for young people to come out to their parents, but also the impact it can have on the 2 members of the couple.  Such young relationships are fragile at the best of times, and the additional layers of pressure due to secrecy and the worry of non-acceptance, on top of dealing with the usual personal insecurities, is captured supremely, and with no small measure of emotional wisdom.
The story is 224 pages long and is aimed at children in Upper Key Stage 2 and above.  That said, a number of reviewers have recommended it for all KS2 children, but in that case I would suggest that adults would want to consider whether the themes within the book are suitable for their particular child, as clearly every young person is different.
Jo and her publishers both support the work of EmpathyLab, a new organisation passionate about the power of stories to build empathy and the power of empathy to make the world a better place.  Working directly with pioneer schools, the organisation is trialling an empathy literature and social action programme for 4 – 11-year-olds.  If you want to find out about the first-year results, you can go to www.empathylab.uk or follow them on Twitter @EmpathyLabUK.
I hope you and your children enjoy this book as much as I did.  While both of my children are still too young to experience this story, I will definitely recommend it to them when they are older.
---
A Storm of Strawberries
Author: Jo Cotterill
Publisher: Piccadilly Press
ISBN: 9781848126169
Paperback: 240 pages