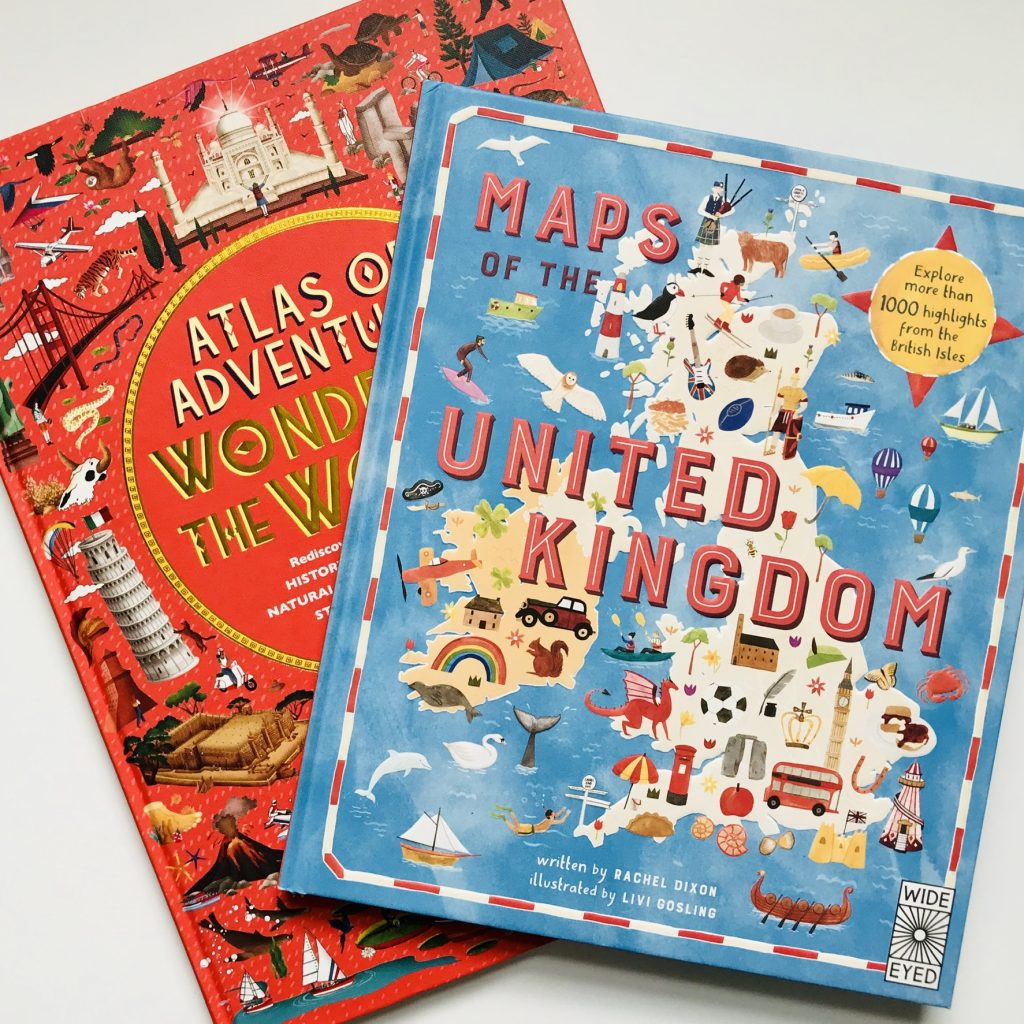 We do love a bit of non-fiction action in our house and these brand-new, informative hardbacks, published by Wide Eyed Editions, have really hit the spot.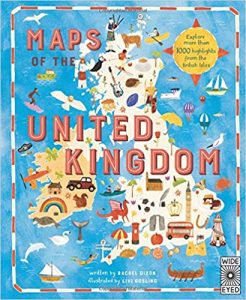 Firstly, Maps of the United Kingdom is basically a compendium of maps, broken down by country and county, which aims to celebrate the diversity, talent and history of Great Britain.  It is 'coffee-table book' sized, sturdy, and the front cover is textured, making it quite tactile.  Inside, the pages are crammed with information, with lots of bullet-sized, interesting facts about local life and people, both past and present.  What I like about this book is its versatility.  The combination of facts and fabulous illustrations make it the sort of book that you could just flick through, dip in and out of as required, or spend hours pouring over.  Children (and adults) will enjoy finding out all about their area, or where their families are based or originated.  It would also provide useful information for school projects.  I particularly like the detailed index at the back, which means that the book can be used in reverse – great if having to research a particular person or building, without first knowing the geographical location.  I've got to say that I've really enjoyed looking through it and while my 2 children are still quite young to make full use of it independently, they have loved looking for places they have visited.  In fact they became very excited when they spotted the East Lancashire (steam) Railway, as we visit there every year for our extended family outing on the Santa Train (if you live near Bury and haven't been, then make sure you do as it's a fab day out!).
---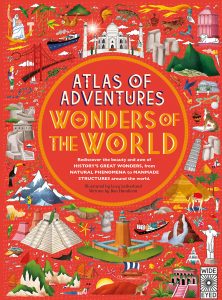 Secondly, the Atlas of Adventures: Wonders of the World, is another large book; it comes in at around a whopping 28 x 37.5 cms.   It is divided by continent and each double page spread focuses on a natural or man-made wonder and it effectively allows you to travel the world from the comfort of your own home.  As well as a 2-paragraph introductory piece on each wonder, there are lots of snippets of information scattered around the pages and the full-colour graphics really draw you in.  The pages are not as busy than the book above, but no less interesting.  I particularly like how the book focuses on some of the less well-known wonders, such as the Ngorongoro Crater, the Great Blue Hole and the Pantanal.  There is also a fab 'Can You Find?' feature at the back of the book, which encourages children to delve right into the detail – my 2 have certainly enjoyed spotting the yellow digger at Pisa and the wizard at Stonehenge!  Another real bonus for me is the book's beautiful end papers – yes, I know, I'm a bit strange like that, but I can't help but be lured by such fabulous details.
Wonders of the World is just one book in the Atlas of Adventures range: Atlas Adventures, Animal Adventures, Mini Adventures and Dinosaur Adventures are other titles that you might want to research if this style of book floats your boat.
---
Both Maps of the United Kingdom and Wonders of the World will appeal to children who are curious and interested in the world around us.  Neither is text-heavy and the graphics pack a mighty punch, so they are perfect for sharing with younger children as well as being enjoyed by independent (including newly independent) readers.  In terms of an age range, I would say around Key Stage 1/Lower Key Stage 2.  With the festive season nearly upon us, they would also make fabulous Christmas gifts, and can be picked up for around £12-13.
Finally, if you love factual books as much as we do, keep an eye out on the blog for another non-fiction review, which we'll post in a week or so's time – all about nature and the animal kingdom. One of which will be the perfect gift for any poo-obsessed child (so that's my son's Christmas gift sorted then…).
---
Maps of the United Kingdom
Author: Rachel Dixon
Illustrator: Livi Gosling
Publisher: Wide Eyed Editions
ISBN: 9781786030252
Hardback: 112 pages
Atlas of Adventures: Wonders of the World
Author: Ben Handicott
Illustrator: Lucy Letherland
Publisher: Wide Eyed Editions
ISBN: 9781786032171
Hardback: 96 pages